Grocery List On A Roll – An easy DIY ! Literally a Grocery List on a Roll made with everyday stuff and the roll lasts forever !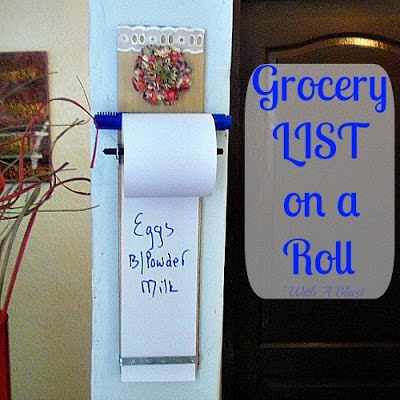 It was time for a proper Grocery List ! And I already LOVE my grocery list on a roll.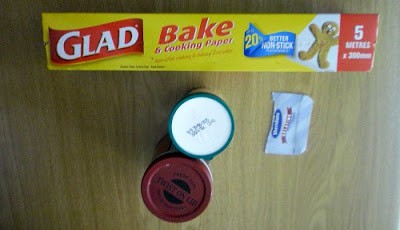 Because …. I am tired of scenes like the above pic ! The rule in our house is, when you finish an ingredient or any other thing which we run out of, is to leave the empty container on a specific counter.
I am "supposed" to check these every day, write it on my list for the day, or the week, and throw away the empty containers. Yeah, that's not happening most of the time.
I tend to SEE the containers, but choose to ignore them for as long as possible. And after a day or two, we have clutter – plain and simple!
So, finally I made something which should last a while (it is quite a long roll of cashier's slip!).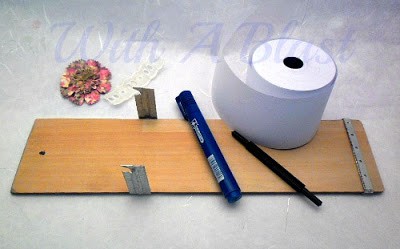 What you need to make a grocery list on a roll :
A leftover laminated flooring plank of about 350mm high
2 Homemade Brackets with a cut-out in each for the plastic black roller shaft (already attached)
A Flower embellishment and a small piece of ribbon (width of the plank)
Roll of cashier's paper
Marker
A Cutting strip – already attached – see below what we have used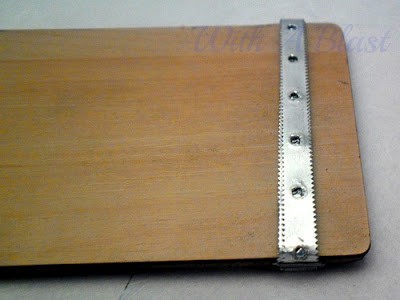 A closer look – we used a double strip of …..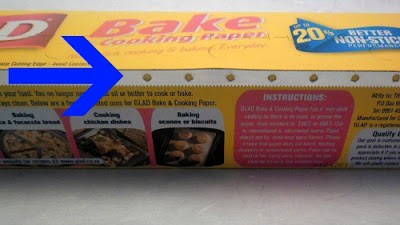 That's right ! The cutting strip thingy which is made of metal and found on baking paper boxes .. works perfectly. Hubby's flashbulb moment of the day !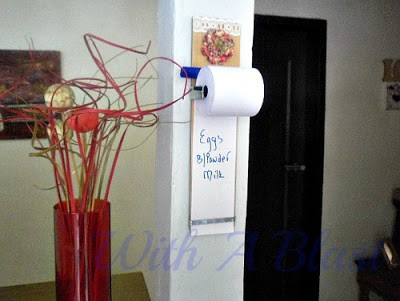 And – in it's new spot where everyone hopefully would use the marker (on top of the paper roll) and write down whatever is finished instead of leaving the empty container.
When ready for the stores, whoever goes, only need to tear off the written piece.
LINDA
Grocery List On A Roll