This Gooey 1-2-3 Pudding is comforting and the perfect dessert on a cold night – spicy with a thick, sweet self-forming sauce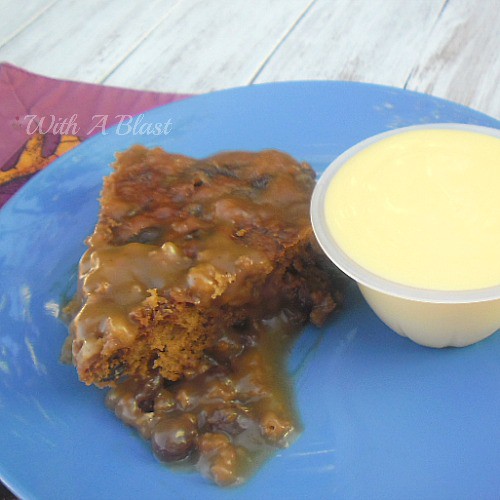 If you are looking for a truly comforting, warming and spicy pudding, this Gooey 1-2-3 Pudding is for you. The Pudding also forms it's own thick, delicious sauce.
I found the original recipe many years ago when I still had a full-time job. Not much time to cook and even less time to bake, therefore any quick and easy recipes were welcome.
Weekends were mostly all about the kids as they participated in various school sports, which usually meant all of Saturday.
That left me with Sundays to really get the cooking and baking on. But my family has always (and I suppose always will be!) been huge fans of dessert after dinner – as in every day.
The first question I'm usually asked is " .. What's for after dinner.." Not dinner, so much, but definitely dessert !
This Gooey 1-2-3 Pudding reminds me of the traditional Fruitcakes baked around Christmas or as many people in South-Africa, a Fruitcake is the dessert or edible gift to give.
The Pudding taste a lot like a Fruitcake minus the abundance of added fruit and nuts.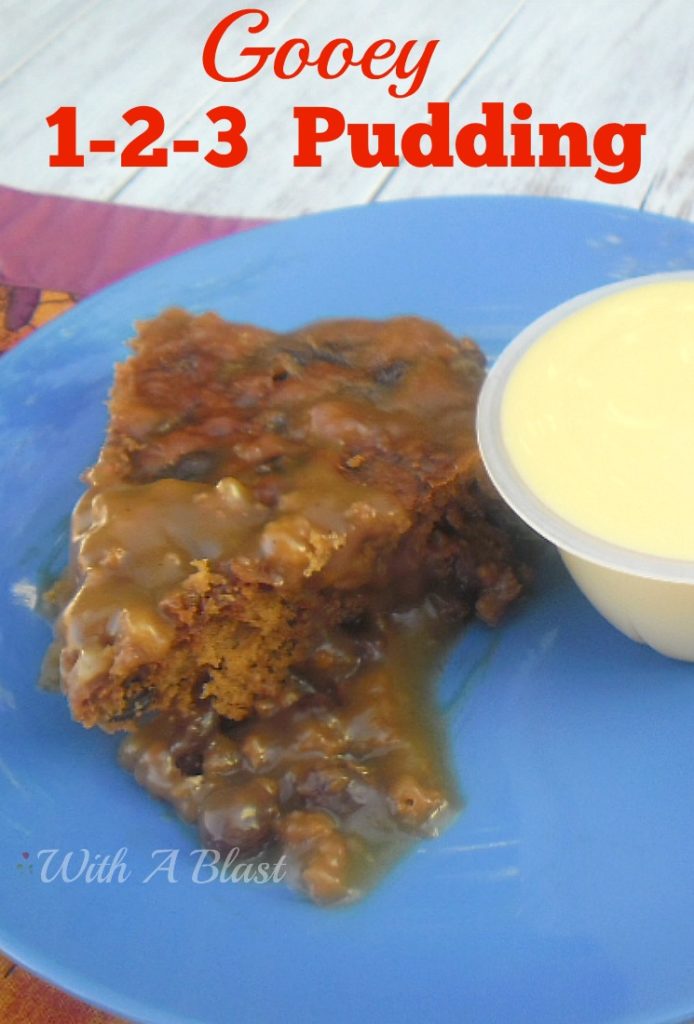 In this recipe there is only Raisins in the Pudding and no other fruit. Looking at the ingredients, it might not even look all that special.
However, I make this so often, especially during the colder months, and it is also the most popular dessert with my family.
Served with a thin custard or Vanilla ice-cream, and you will have a winner and it is so easy to throw together.
More Dessert recipes you might like:
Gooey 1-2-3 Pudding
Yield: 10 servings
Gooey 1-2-3 Pudding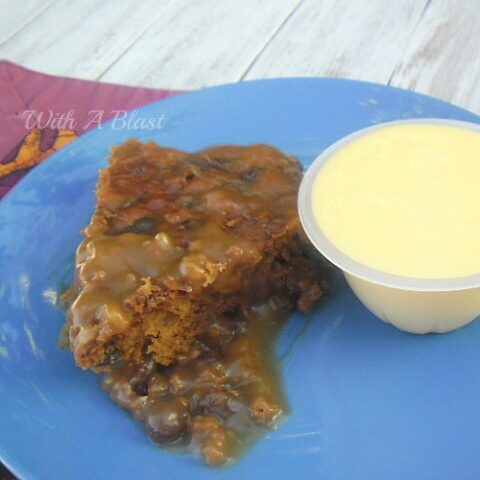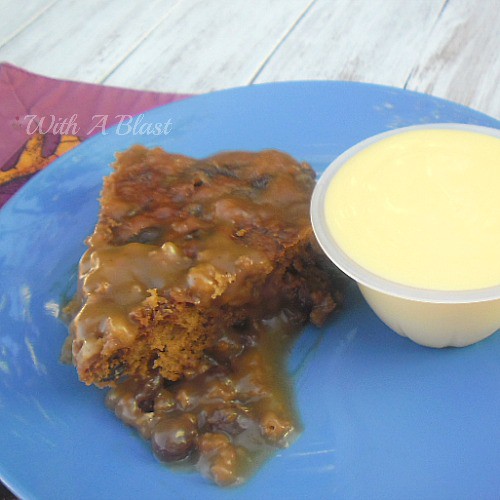 This Gooey 1-2-3 Pudding is comforting and the perfect dessert on a cold night - spicy with a thick, sweet self-forming sauce
Ingredients
3 TB Smooth Apricot Jam (Jelly)
3 TB Unsalted Butter, softened
2 t Baking Soda
1/8 t Salt
1/2 cup Milk
2 cups Flour
1/2 cup Seedless Raisins
1/2 cup Brown Sugar
2 cups Boiling Water
1/2 t Ground Cinnamon
Instructions
Pre-heat the oven to 180 deg C (350 deg F) – spray a large, deep oven dish with cooking oil

Combine the Jam and Butter

Dissolve the Baking Soda and Salt in the Milk – stir into the Jam/Butter mixture

Add the Flour and Raisins to the mixture – stir until combined – spoon into the prepared oven dish

Dissolve the Brown Sugar in the Boiling Water – add the Cinnamon – pour over the pudding batter



Bake 35 – 40 minutes until golden and fully cooked
Notes
source : adapted from "Spyskaarte vir Elke Seisoen" recipe book
Nutrition Information
Yield
10
Amount Per Serving
Calories

183.2
Total Fat

3.9g
Saturated Fat

2.5g
Unsaturated Fat

1.1g
Carbohydrates

37.6g
Fiber

1.2g
Sugar

15.5g
Protein

3.1g
Serve warm with thin custard, ice-cream or whipped cream.
LINDA