Double Chocolate Toffee Poke Cake is a moist, very chocolatey cake, filled with Toffee sauce and a whipped cream topping AND drizzled with extra sauce !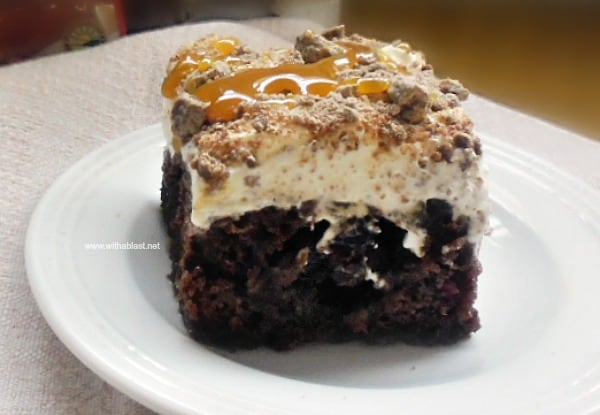 Dripping chocolatey, the cake is already moist – add Toffee Sauce and you have a double winner ! And this double Chocolate Toffee Poke Cake has it all.

I was craving a moist, toffee or caramel kind of poke cake for weeks now. Finally, I decided to come up with something myself, as, for once, I just could not find any inspiration on the internet or in any recipe book.
You know that feeling, no matter how many recipes you look at, it is not right, not what you want !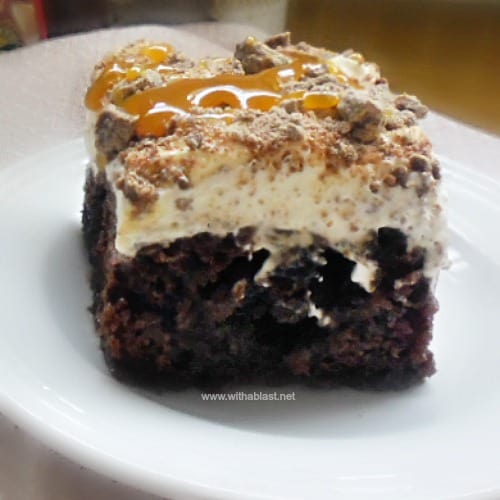 Over the last couple of years, I have come to realize that when I am in the mood for something specific, best is to make the recipe up myself.
There has been total write-offs, never to be repeated again dishes which started out this way. But many made the cut and I am happy to say, this is one of the best Poke Cakes I have had in a long time.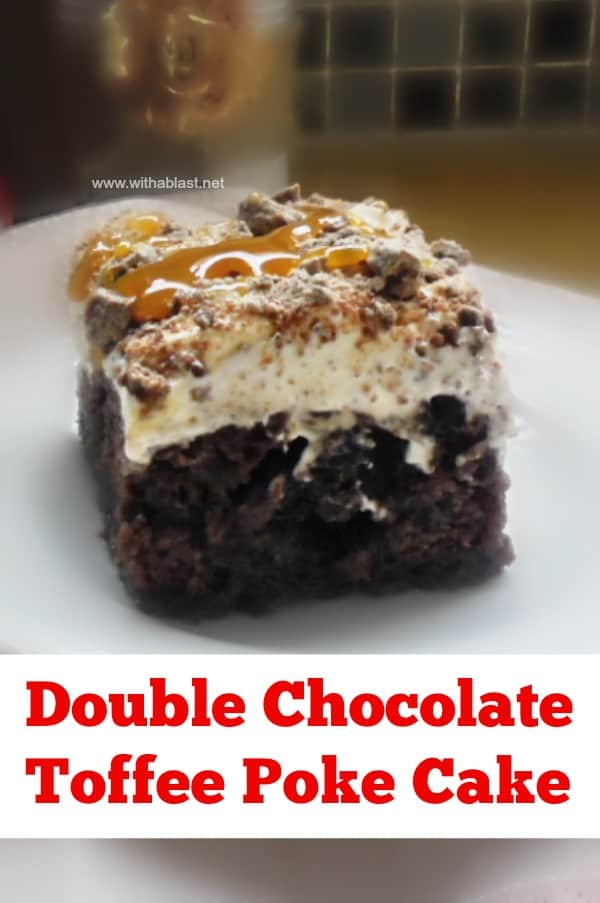 You might also like these Chocolate Cake recipes:
Double Chocolate Toffee Poke Cake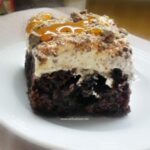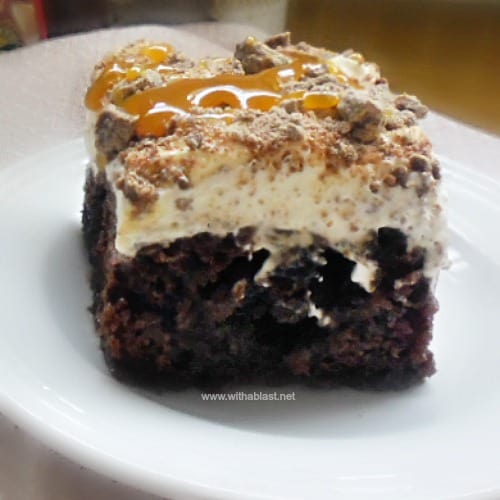 Double Chocolate Toffee Poke Cake
Double Chocolate Toffee Poke Cake is a moist, very chocolatey cake, filled with Toffee sauce and a whipped cream topping AND drizzled with extra sauce
Keyword:
chocolate cake, poke-cake
Ingredients
1

box

Chocolate Cake Mix

+ ingredients as per the box

3/4

cup

Chocolate Chips

( the slivered type works best )

1 1/2

cups

Toffee Sauce

( your favorite brand )

1

cup

Fresh Cream

( double cream/whipping cream )

1

TB

Caster Sugar

( Super fine sugar - not powdered sugar )

1/2

cup

Chocolate

pieces, any type
Instructions
Prepare the Cake Mix, adding the Chocolate Chips last and bake using a 20 x 30 cm ( 8 x 12 inch ) oven dish, as per the instructions on the box – let cool completely

Use the handle tip of a wooden spoon and poke holes all over the baked cake – fill the holes with 1 cup of Toffee Sauce – spread the remaining Sauce over the top

Beat the Cream until stiff peaks form – add in the Caster Sugar and beat just enough to combine – spoon over the layer of Toffee Sauce

Sprinkle the Chocolate pieces over the whipped Cream – chill at least 2 hours before serving
TO SERVE:
Serve with extra Toffee Sauce drizzled over ( keep in mind that this is a super sweet treat! )
LINDA