This Creamy Sundried Tomato Chicken Pasta is the perfect week night dinner, especially on a cold evening – tasty, creamy and with gooey cheese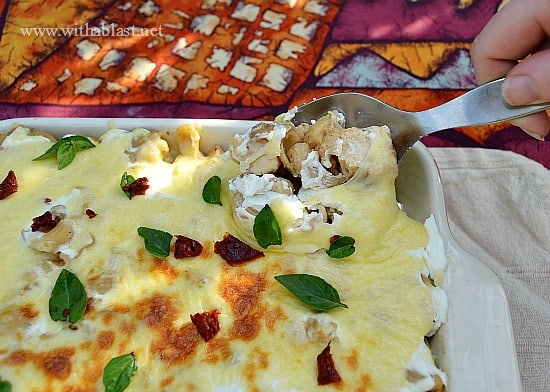 Today I have yet again, another delicious chicken recipe for you. Creamy Sundried Tomato Chicken Pasta is one of our favorite pasta dishes, which just so happens to team up best with Chicken in this recipe combination.
It is topped with a gooey Mozzarella, with creamy Cottage Cheese spread just under that. Dig in deeper … oh yes, more creaminess with the Pasta, Chicken and Mushrooms smothered in a Sundried Tomato, Black Pepper Sauce.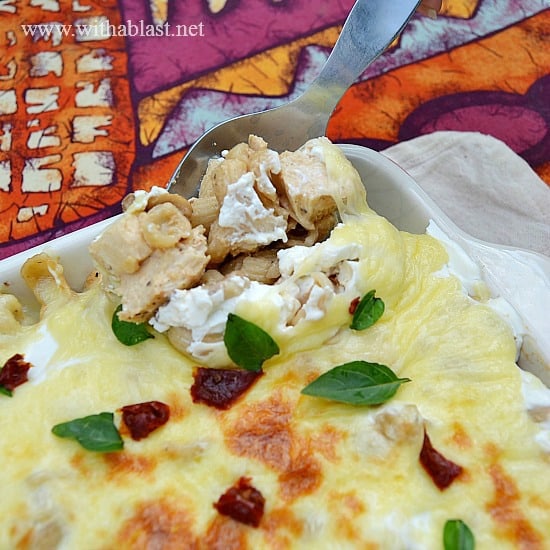 I could eat this dish two, three times a week, and never get tired of it.
My family is the same, they just love this creamy Chicken dish ! And I think the double layer of two kinds of cheeses helps a lot too 😉
After cooking the Chicken, you can cut the Fillets into cubes or into strips.
I sort of like to alternate between cubes and strips, depending on the type of pasta used.
For me, cubed Chicken goes better with longer types of pasta whereas strips are better with shell kind of pastas.
Totally up to you which to use and whether the Chicken is cubed or cut into strips, makes no difference to the taste.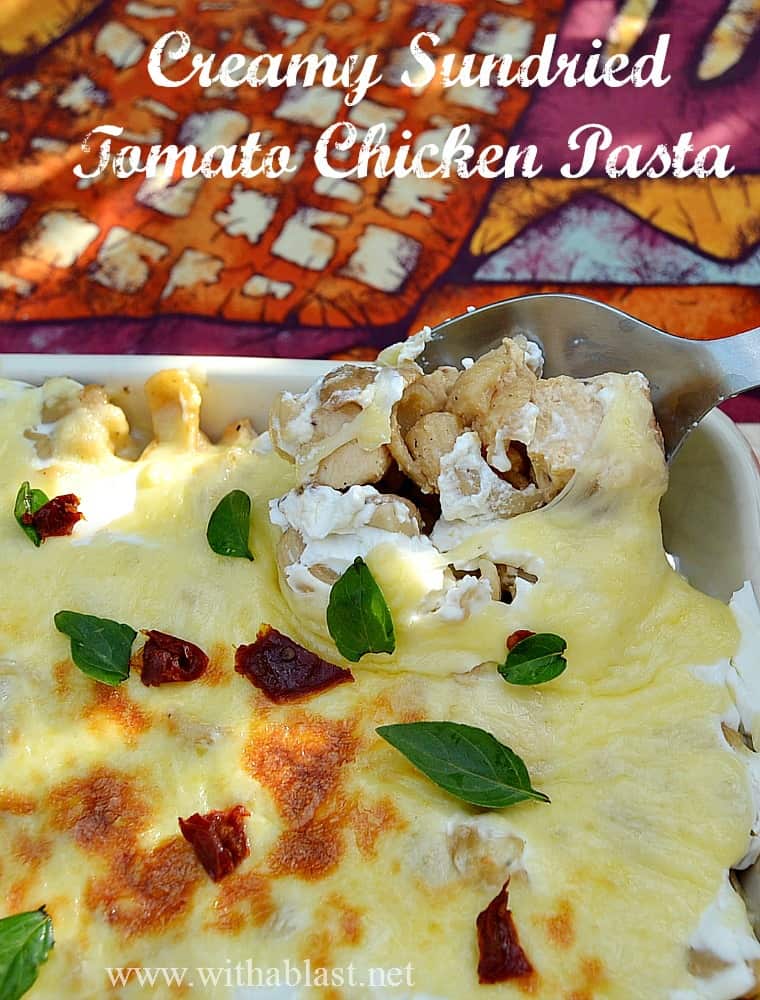 Leftovers from this creamy Sundried Tomato Chicken pasta are delicious for lunch the following day.
And it does not matter whether you heat it up again, or enjoy the Chicken cold. I suppose during Summer we all crave cooler lunches, but in Winter, we want it to be warm and comforting.
More Pasta recipes you might like:
Creamy Sundried Tomato Chicken Pasta
Yield: 6 Servings
Creamy Sundried Tomato Chicken Pasta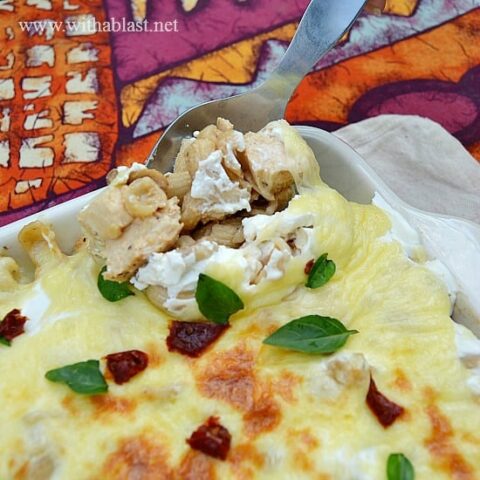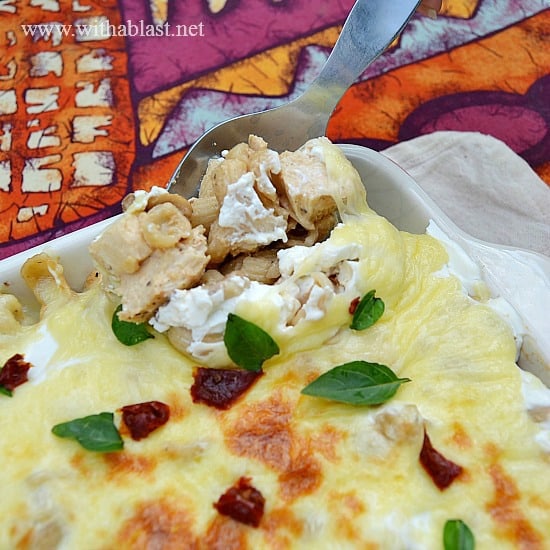 This Creamy Sundried Tomato Chicken Pasta is the perfect week night dinner, especially on a cold evening - tasty, creamy and with gooey cheese
Ingredients
450 g Chicken Fillets ( 1 pound )
Salt and Black Pepper, to taste
250 g Pasta of your choice ( 8 oz )
2 TB Unsalted Butter
2 t Fresh Garlic, crushed
8 Sundried Tomatoes, drained and chopped
250 g Mushrooms, sliced ( 8 oz )
1 cup Creamy Pepper Sauce (store-bought is fine)
1/2 cup Fresh Cream (double cream/whipping cream)
250 g Cottage Cheese, plain, smooth ( 8 oz )
1 cup Mozzarella Cheese, grated
OPTIONAL:
Fresh Basil Leaves, torn, to garnish
1 Extra Sundried Tomato, drained, chopped, to garnish
Instructions
Season the Chicken to taste – grill until done – keep aside to cool 5 minutes – cut into cubes

Cook the Pasta as per the instructions on the pack - drain and keep aside

In a large pan, melt the Butter – saute the Garlic and Tomatoes 2 minutes – add the Mushrooms and stir-fry until golden

Add the Pepper Sauce and Fresh Cream to the Mushroom mixture – heat through and remove from heat

Combine the cubed Chicken, cooked Pasta and the Mushroom mixture – spoon into a large oven proof serving dish – spread over the Cottage Cheese and sprinkle with the Mozzarella Cheese

Place under the oven's grill element until the Cheese has melted and starts to bubble - remove from the oven
OPTIONAL:
Garnish with Basil and Sundried Tomato
Nutrition Information
Yield
6
Amount Per Serving
Calories

492.5
Total Fat

21.6g
Saturated Fat

11.7g
Unsaturated Fat

7.3g
Carbohydrates

39.9g
Fiber

3.2g
Protein

33.8g
Serve with a crunchy salad or two and a dinner roll.
LINDA