Coriander and Black Pepper Burgers are juicy and so flavorful with gooey Cheese and Maple Syrup caramelized Onions – the patties are perfect to grill, barbecue or pan fry.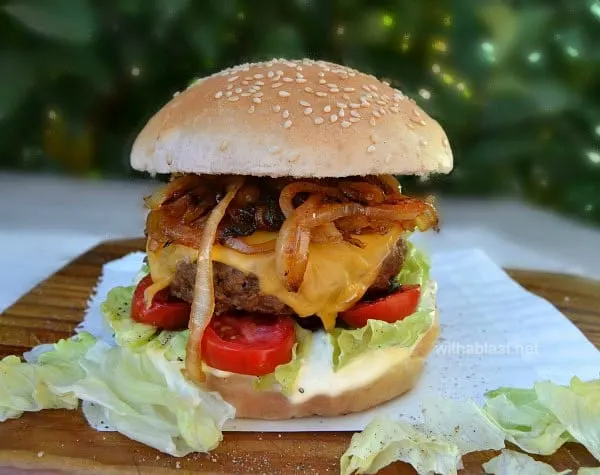 Juicy, bursting with flavor, Coriander and Black Pepper Burgers are perfect weekend food. Or even a weeknight dinner.
And you do not need to get your barbecue going as these scrumptious patties can be pan fried or grilled on a George Foreman grill.

That being said, I have to be honest, there is no better burger than when the patties are grilled over the coals – not a gas grill, a proper, smoky fire.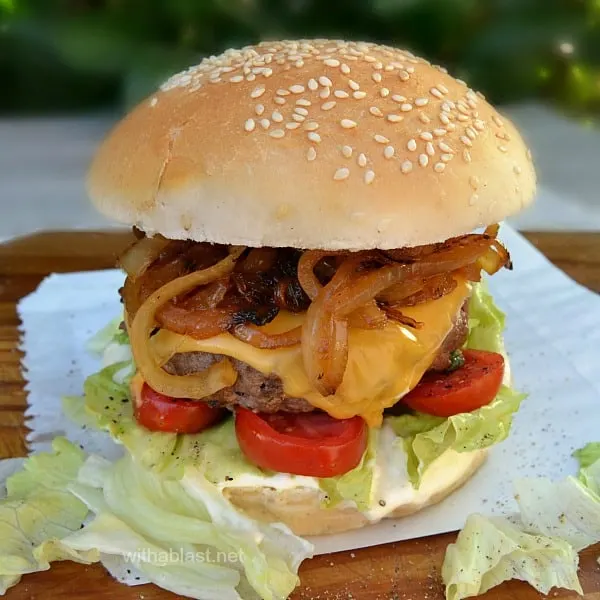 We use whole, crushed Coriander seeds in all our homemade Biltong (similar to Beef Jerky) as it just does not taste like a proper Biltong without this essential ingredient.
The quantity in the recipe for these Coriander Burgers may seem a lot, but it gives a wonderful taste without being overly so.
Do not use ground Coriander, it will not taste the same. I did a little research on Google regarding Coriander and Cilantro and found some interesting facts.
In South-Africa we call the leafy herb Coriander, whereas in other countries it is known as Cilantro. Now, do not get confused with the herb and the seed, the tastes are worlds apart.
My family is happy with the amount of Black Pepper as in the recipe below. But I normally add even more to my patties when rolling the meat into balls and before chilling.
You can play around with the quantities and even the Coriander Seeds – use more or less, depending on how much you like the flavor of these wonderful Seeds.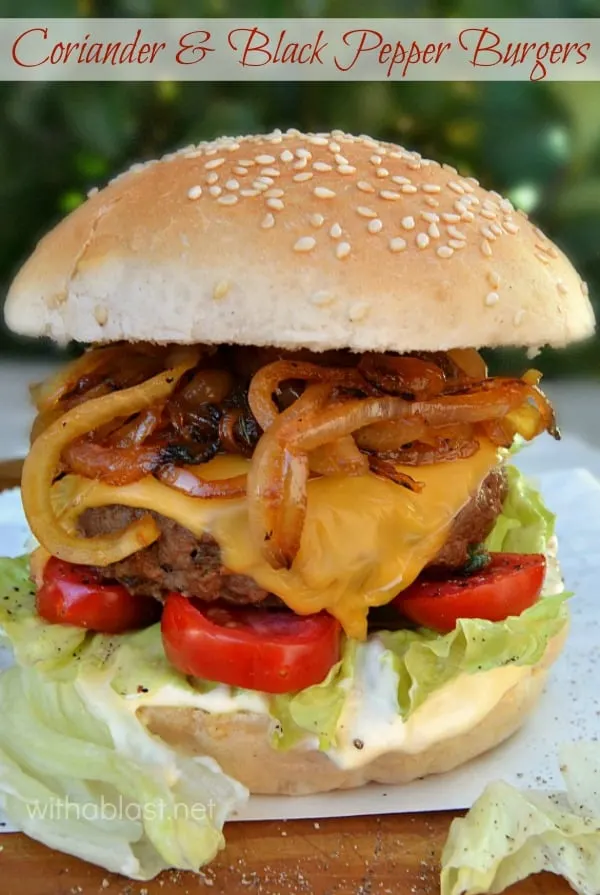 The juiciness definitely comes from the pickled Onions and Jalapeno. I use a very mild Jalapeno so that it does not overpower the Coriander taste.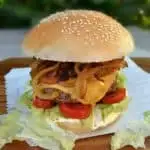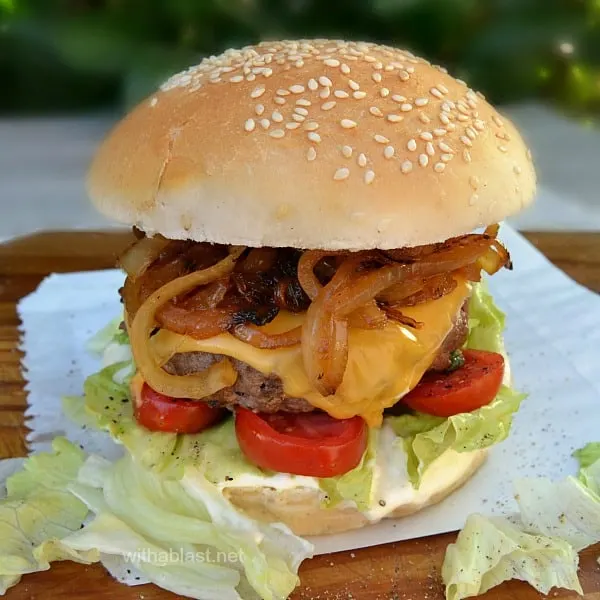 Coriander and Black Pepper Burgers
Coriander and Black Pepper Burgers are juicy and so flavorful with gooey Cheese and Maple Syrup caramelized Onions - the patties are perfect to grill, barbecue or pan fry.
Course:
Light Dinner, Lunch
Ingredients
450

g

Lean Ground Beef

( 1 pound )

1

large

Egg

lightly beaten

1/2

cup

Pickled Mild Jalapenos

chopped

1/3

cup

Pickled Onions

chopped

2

TB

Coriander Seeds

finely crushed

2

t

Black Pepper

freshly ground

1 1/2

t

Salt

divided

2

TB

Butter

2

Onions

thinly sliced

1

sprig

Rosemary

leaves only, chopped

2

TB

Maple Syrup

1/2

cup

Mayonnaise

3

TB

Creamed Horseradish

4

slices

Gouda Cheese

4

Sesame Seed Burger Buns

halved

1

handful

Lettuce

torn

8

Italian Baby Tomatoes

each sliced lengthwise into 3 pieces
Instructions
Combine the Ground Beef, Egg, Jalapeno, Pickled Onions, Coriander, Black Pepper and one teaspoon of Salt – form 4 round balls and place in the refrigerator until needed

Heat the Butter in a pan – add the Onions, Rosemary and the remaining 1/2 teaspoon Salt – cook over medium heat until golden – add the Maple Syrup, stir through and cook another minute – remove from heat and set aside

Place the Burger balls on the grill, pan or George Foreman (use a little Oil if using a pan) – press down slightly to form a patty and cook 3 – 4 minutes on the one side, tip over and cook to your preference – during the last minute or two place a slice of Gouda Cheese over each pattie (do not turn again)

Combine the Mayonnaise and the Horseradish – spread over the bottom halves of the sliced Burger Rolls

– top with Lettuce and Tomato slices

– place the hot cooked Patties over the Tomatoes and scoop some Maple Syrup caramelized Onions on top of the Patties – end off by placing the top part of the Burger Roll
Serve with fries or salads on the side.
LINDA
HUNGRY FOR SOME MORE BURGERS ?