Coconut and Almond Cream Pies – a creamy Almond filling in an easy to make Coconut cup – delicious for dessert or whenever you crave a sweet treat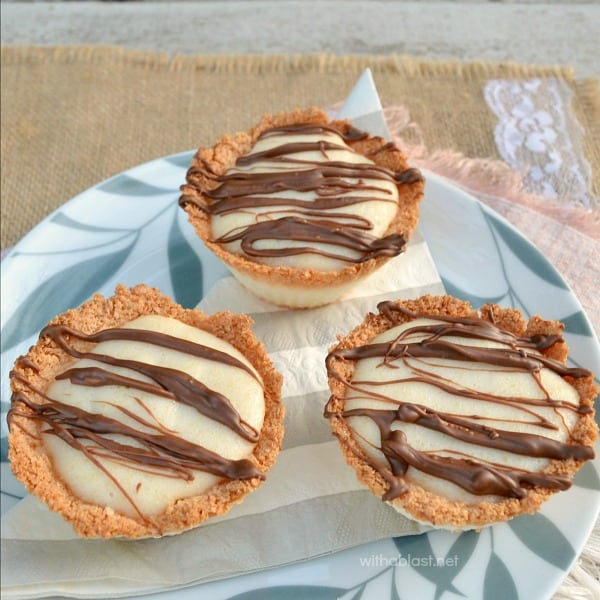 These Coconut and Almond Cream Pies are most delicious as a sweet treat or have one after dinner as a small dessert.
I usually bake three to four dozen of the Coconut cups ahead of time, keep them in a sealed container and use them whenever I need any sort of crust for a sweet treat.
The Almond Cream filling is by far one of the most delicious fillings I use to fill the cups, even though it requires an extra bit of baking.
Just about any no-bake filling is great to fill the cups with, as long as the filling is not too watery to start with, If needs be place your filling in the refrigerator to firm up a little before scooping into the Cups, otherwise it will make the Cups go soggy.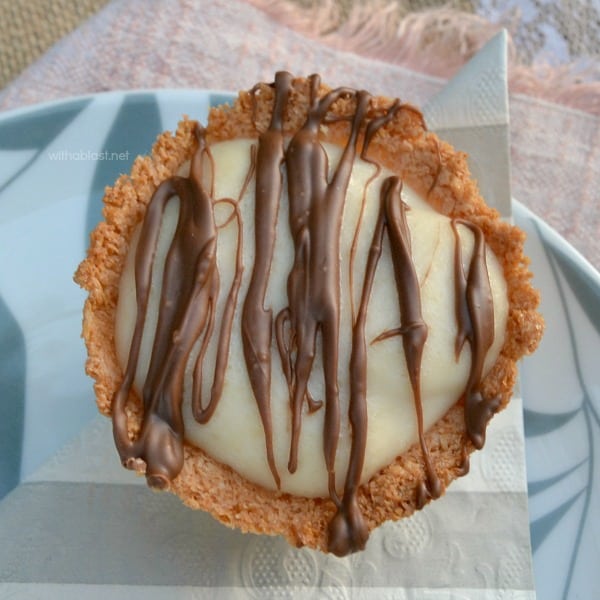 In the above pic you can see the Almond Cream perfectly. It is very smooth, but the Ground Almonds make a small difference in the texture.
The pies are still a melt-in-the-mouth sweet treat and you decide how sweet you like yours.
I like the filling just sweet enough without being overly sweet as the Coconut Cups are sweet already.
And the Pies get a bit of Chocolate drizzle over as well. In the end all the favors balance out wonderfully.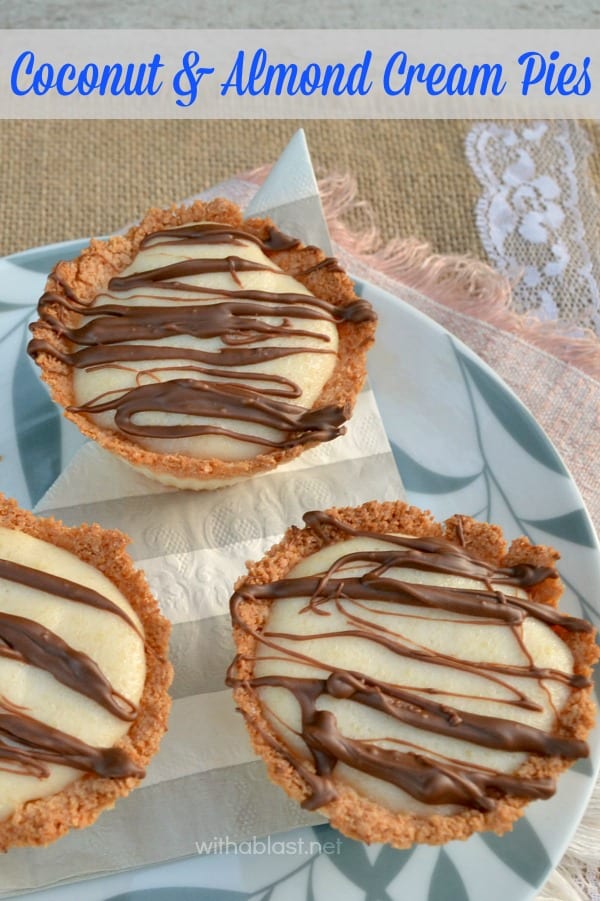 You can use either a cupcake pan or as I prefer, silicone cupcake cups – these are truly perfect for this kind of baking.
After the Cups are baked the cooling time are much less than when you use a pan.
And if you bake the Cups and straight after the filling, your oven would not need to be switched on twice, or kept switched on whilst you are waiting for the Cups to cool.
The silicone cupcake cups also make it easier to remove them by simply peeling away the silicone. I also make all my chocolate cups this way.
More Sweet Treat recipes you might like:
Coconut and Almond Cream Pies
Yield: 12 Servings
Coconut and Almond Cream Pies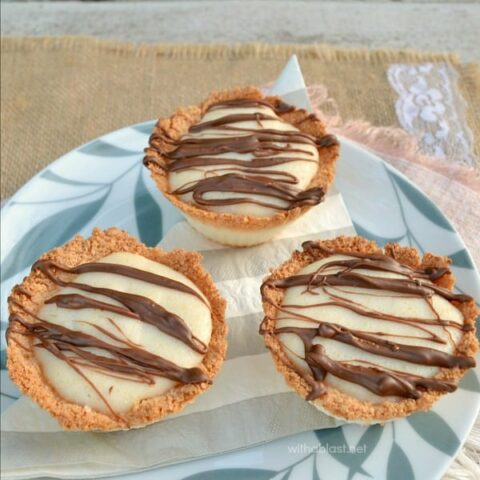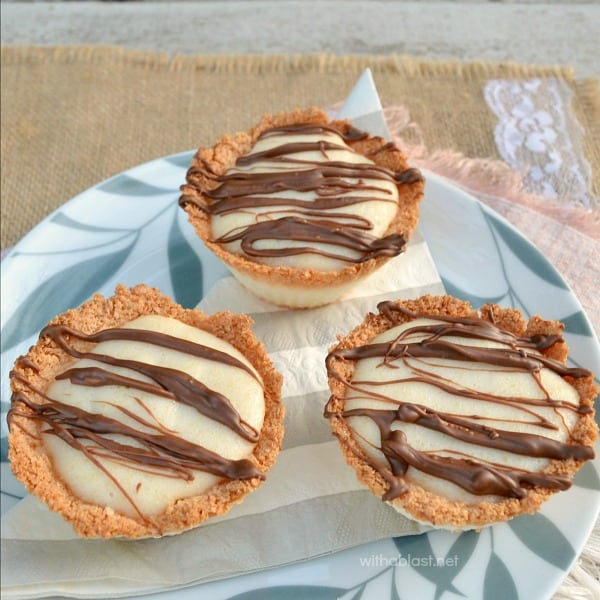 Coconut and Almond Cream Pies - a creamy Almond filling in an easy to make Coconut cup - delicious for dessert or whenever you crave a sweet treat
Ingredients
CUPS:
2 1/2 cups Desiccated Coconut
1 cup Caster Sugar (Superfine Sugar)
2 Extra-Large Egg Whites
FILLING:
2 cups Ground Almonds
2 cups Milk
2 t Vanilla Essence
1 t Lemon Juice
3 TB Honey, or to taste
2 t Gelatin
3 TB Boiling Water
1/4 cup Chocolate, melted
Instructions
1.) Pre-heat the oven to 180 deg C (350 deg F) – spray 12 silicone cupcake cups (or your cupcake pan) with cooking oil
CUPS:
2.) Combine the Coconut, Caster Sugar and Egg Whites – press onto the bottom and up the sides of the cups – have a cup of water close and dip your fingers every now and then to help shape the Coconut mixture
3.) Bake 10 – 15 minutes or until the edges are light golden – cool in cups/pan completely before removing
FILLING:
4.) Beat together the Almonds, Milk, Vanilla, Lemon Juice and Honey until smooth
5.) Dissolve the Gelatin in the Boiling Water
6.) Whilst beating add the dissolved Gelatin in a thin stream to the Almond/Milk mixture – pour mixture into the baked Coconut cups and place on a lined baking sheet – bake 25 – 30 minutes or until the filling is set
7.) Remove from the oven – let cool completely
Nutrition Information
Yield
12
Amount Per Serving
Calories

423.3
Drizzle melted Chocolate over and serve.
LINDA