Cheesy Bacon Burger Fries is a healthier "junk" food at it's best ! Fries, bacon burger covered in gooey cheese – this is to die for delicious !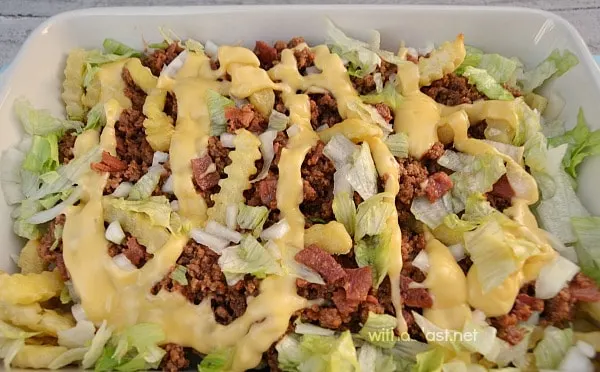 This is junk food made better at home ! Tastier and healthier Cheesy Bacon Burger Fries will quickly become a family favorite. Especially because you can have dinner (or lunch) ready in around half an hour.

I am not one for making complicated meals to start with, and on a Friday night or Saturday – when we either have a late lunch or an early dinner, I am really not in the mood for cooking.
So yes, I go for the easier, quicker meals, which we might normally would have ordered burgers.
Since we decided to cut out placing orders for take-outs, I am always on the look out for something similar.
But making burgers at home could be just as much work as cooking up a big meal – you know, meat, potatoes, vegetables or the kind of meal you would normally serve during the week.
What is it anyhow about weekend food that must be different ? I think during the week, we cook pastas, casseroles and that type of thing because of convenience. And maybe even because most of us are a little brain-dead during the week.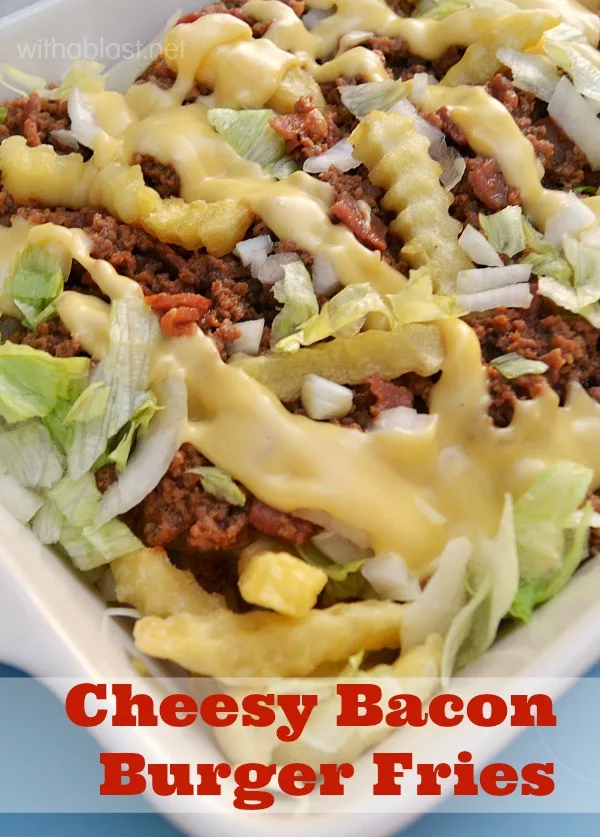 But come weekends, and we all have some extra energy, feel like eating different foods and just be more laid back, relaxed.
Do not get me wrong, this cheesy Bacon Burger Fries dish is most definitely suitable for any day of the week or weekend, to me it just screams weekend !
This meal is ready to be served in under 30 minutes .I get the Fries going in the oven, start with the Meat and whilst that is cooking, I quickly chop up the Onion and Lettuce.
As soon as the Fries are done, arrange in a serving dish and drizzle over the Cheese Sauce.
I prefer homemade Cheese Sauce, but store-bought would work just fine (heated of course). When served with a burger bun and salads on the side you can easily feed 6 adults.
And if you serve the Fries on it's own, I would say at least 4 servings, no less.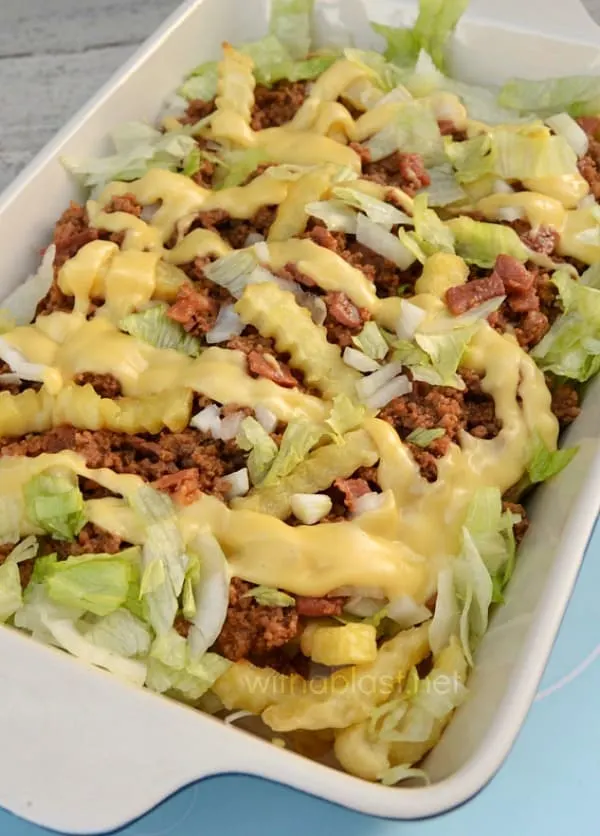 Cheesy Bacon Burger Fries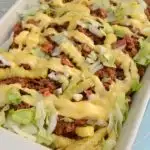 Cheesy Bacon Burger Fries
Healthier "junk" food at it's best ! Fries, bacon burger covered in gooey cheese - this Cheesy Bacon burger Fries dish is to die for delicious !
Course:
Light Dinner, Lunch
Ingredients
900

g

Frozen French Fries

(oven bake type) - ( 2 pounds )

1

TB

Olive Oil

125

g

Bacon

chopped ( 4 oz )

450

g

Lean Ground Beef

( 1 pound )

1/2

cup

Tomato Sauce

(Ketchup)

1/4

cup

Yellow Mustard

Salt and Black Pepper

to taste

1

small

Onion

chopped

2

cups

Lettuce

shredded

1

cup

Cheese Sauce

(homemade or store-bought)
Instructions
Bake the Fries in the oven as per the instructions on the bag

Meanwhile, heat the Oil and fry the Bacon until just done – add the Ground Beef and cook until done (drain if necessary)

Add the Tomato Sauce and Mustard – stir through – season to taste with Salt and Black Pepper – cook another 2 – 3 minutes – remove from heat and keep warm

As soon as the Fries are done – transfer to a serving dish – sprinkle over half the Lettuce – scoop the warm Beef mixture over

Scatter the remaining Lettuce and Onion over, ending with the warm Cheese Sauce
Serve immediately with a burger bun and a salad or two on the side.
LINDA
You Might Also Like: