Layers of scrumptious Potatoes, Ground Beef, Cheese and more in this comforting casserole
As I have mentioned before, we are having thunderstorms and rain just about every day for the past few weeks and even though it is not that cold, I always crave comfort food when it is raining.
I put together this Cheesy Ground Beef and Potato Casserole a couple of days ago and it was so good, I just have to share it with you.
It is a very simple, yet scrumptious casserole and you should have everything on hand especially if you are a Ground Beef fan.
The choice of Sauce or Salsa is also limitless and you could really add any kind of Sauce/Salsa you like – like a Chili Sauce ? Use that instead.
I cook the Potatoes only long enough until a knife just cuts into the Potato – it might even still be a little hard in the center.
This helps with slicing the Potatoes into slices, but hey, if you overcooked the Potatoes a little and it breaks up a bit when slicing, no problem, the dish is so delicious no one will even notice there are slices and pieces all together in the casserole.
This cheesy ground Beef and Potato casserole will definitely become a family favorite and it is already on my list of favorite-go-to-recipes !
Cheesy Ground Beef And Potato Casserole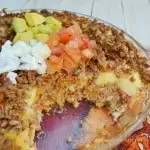 Cheesy Ground Beef And Potato Casserole
Layers of scrumptious Potatoes, Ground Beef, Cheese and more in this comforting casserole
Ingredients
4

Large

Potatoes

peeled

2

TB

Olive Oil

1

Onion

chopped

2

t

Fresh Garlic

crushed

1

Red Bell Pepper

chopped

450

g

Lean Ground Beef

( 1 pound )

1/2

cup

Peppadew Sauce

(or Salsa of your choice)

Salt and Pepper

to taste

1

cup

Cheddar Cheese

grated

4

Eggs

1

cup

Milk
Instructions
Pre-heat oven to 180 deg C (350 deg F) – spray a large oven dish with cooking oil

Boil the Potatoes in salted water until just cooked (do not overcook) – slice into thick slices and set aside

Heat the Oil in a pan – saute the Onion, Garlic and Bell Pepper until soft – add the Beef and cook until done (drain if necessary) – stir in the Sauce or Salsa – season to taste with Salt and Pepper

Arrange half the sliced Potatoes on the bottom of the prepared dish – scoop half of the Beef mixture over the Potato layer and sprinkle over half the Cheddar Cheese – repeat layers ending with a layer of Cheese

Beat together the Eggs and Milk – pour slowly and carefully over the layered Potato/Beef dish – bake 40 – 45 minutes or until set (place a layer of aluminum foil over the dish if it browns too quickly after 30 minutes – shiny side up)
Serve with cubed Tomatoes, Onion and Avocado.
LINDA