Apple and Cinnamon Bars – Soft Cake bottom, creamy Custard filling and Caramelized Apple topping baked all at once makes a delicious Fall dessert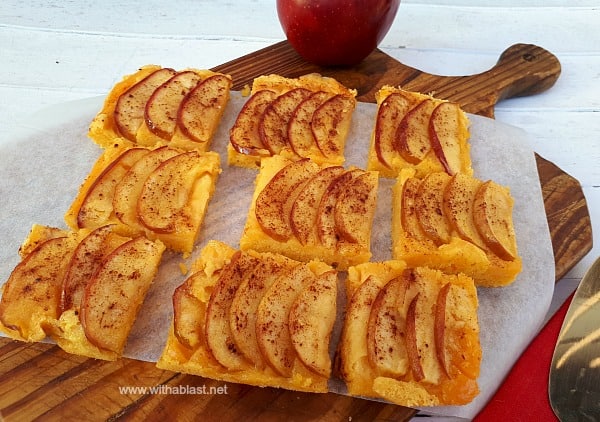 A good Custard is always welcome ! Especially when baked and teamed up with Cinnamon Apple, you have a delicious quick, anytime sweet treat or dessert. These Apple and Cinnamon Custard Bars are one of our favorite week night desserts.
I left the Apple skin on and liked it that way, but my hubby and son reckoned it would have been better without. I suppose that is a personal choice.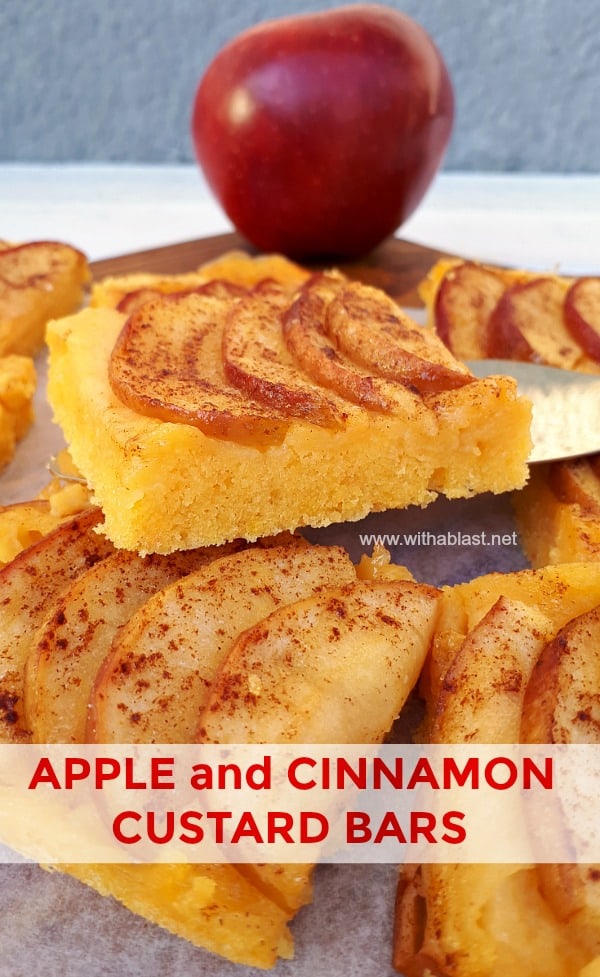 You can slice these into rectangular bars or squares and they hold shape perfectly, so it is ideal as a party snack which is easy to add to a finger-dessert platter.
The size you slice them into are also to your own preference, but I have found if I serve these to my family for dessert, 9 squares are just fine.
Should you prefer to add the Custard Bars to a sweet party platter, I'd recommend slicing them into smaller bite-sized bars, which would give you around 15 servings.
I have set the Servings in the recipe to 12 portions as that is easy to slice especially if the Apple skin is not peeled.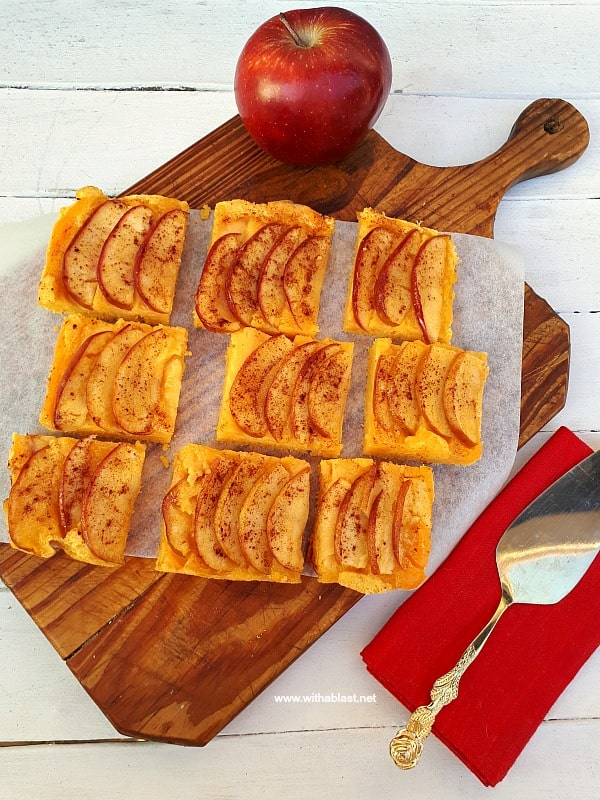 The base consists of a Custard flavored cake with a thin Custard filling and topped with sliced Apple, sprinkled with Sugar and Cinnamon, which comes together nicely once baked.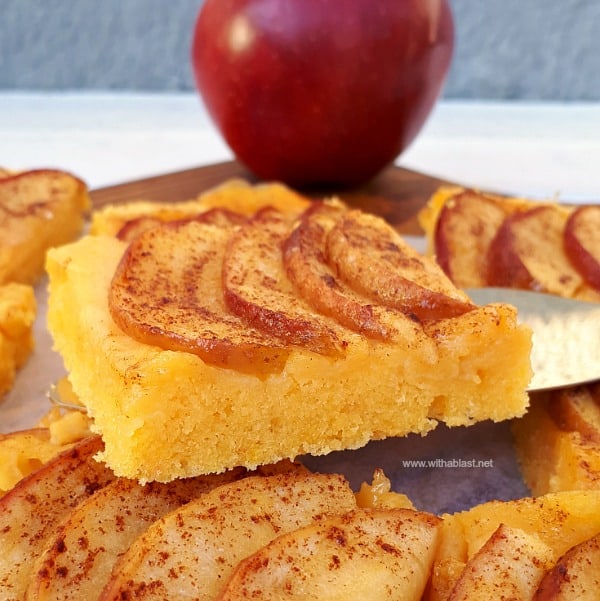 More Apple recipes you might like:
Apple and Cinnamon Custard Bars
Yield: 12 Servings
Apple and Cinnamon Custard Bars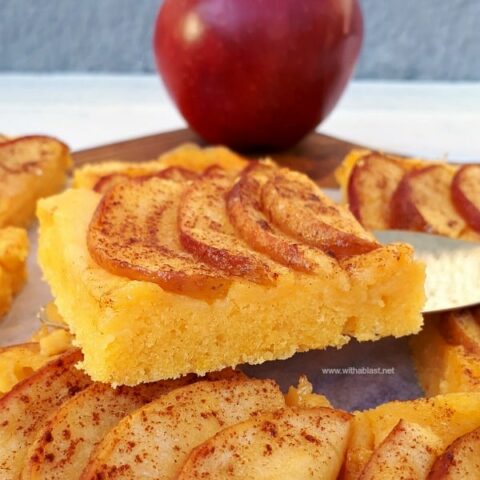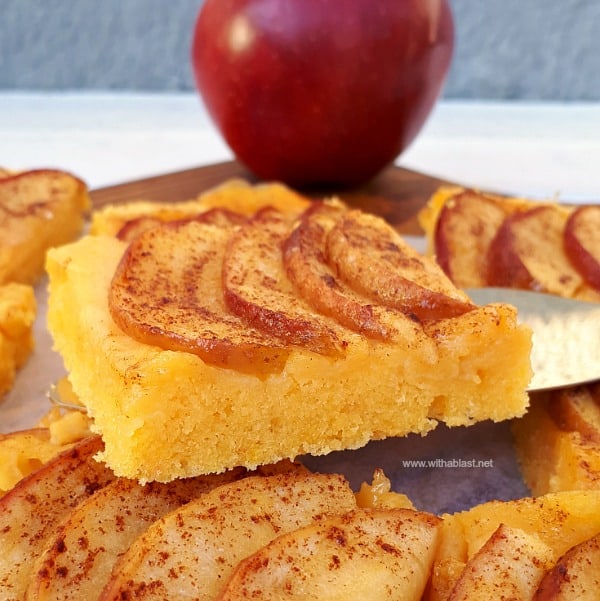 Apple and Cinnamon Bars - Soft Cake bottom, creamy Custard filling and Caramelized Apple topping baked all at once makes a delicious Fall dessert
Ingredients
BASE:
1/2 cup Butter, softened
1/4 cup Caster Sugar
1 Egg
2/3 cup Self-Raising Flour
Pinch Salt
2 TB Custard Powder
CUSTARD:
1 TB Custard Powder
2 TB Caster Sugar
1/2 cup Milk
2 t Butter
1 t Vanilla Essence
TOPPING:
1 Large Red Apple, cored,peeled or not, thinly sliced
3 TB Butter, melted
1 TB Caster Sugar
1/2 t Ground Cinnamon
Instructions
) Pre-heat the oven to 180 deg C (350 deg F) – line a 20 x 20 cm ( 8 x 8 inch ) oven dish with baking paper (edges hanging over the dish)
) Beat the Butter and Sugar for the cake until creamy and fluffy – add the egg and beat again
) Sift together the Flour, Salt and Custard Powder – stir this into the Butter mixture – spread the batter on the bottom of the prepared oven dish – set aside
) Custard: Combine the Custard Powder and Caster Sugar in a small saucepan – add the Milk, stirring continuously over low heat until mixture boils and start to thicken – remove from heat – stir in the Butter and Vanilla – pour over the batter in the oven dish
) Arrange the sliced Apple on top of the custard – brush with melted Butter – sprinkle over the Caster Sugar and the Cinnamon – bake 35 minutes
) Remove from the oven and let cool in the oven dish before slicing
Notes
Caster Sugar = Superfine Sugar NOT powdered sugar
Nutrition Information
Yield
12
Amount Per Serving
Calories

200.3
Total Fat

12.7g
Saturated Fat

7.3g
Unsaturated Fat

3.9g
Cholesterol

46.7mg
Sodium

60.7mg
Carbohydrates

15.6g
Fiber

0.4g
Sugar

1.9g
Protein

1.7g
NOTE:
If you prefer a thicker Custard layer, simply double the Custard part of the recipe.
Serve warm or at room temperature and enjoy !
LINDA