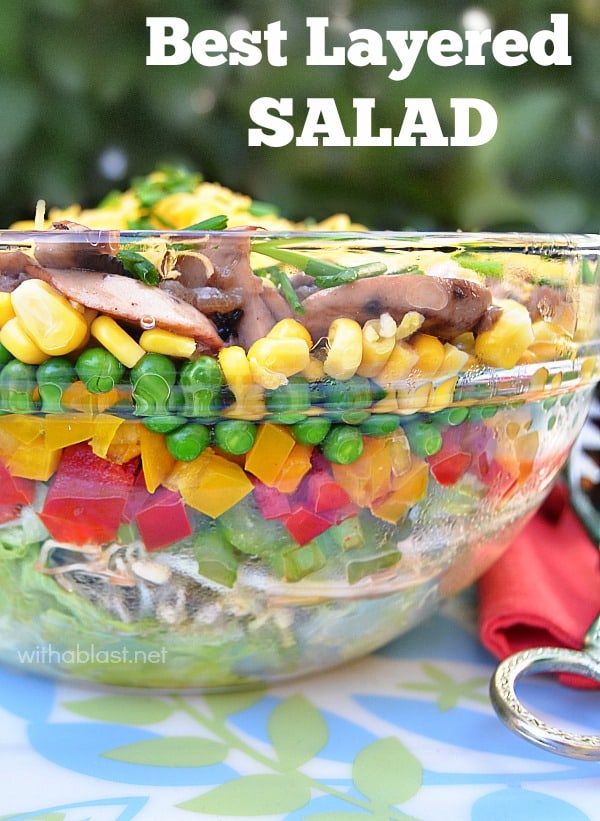 This is the best Layered Salad I have ever had, and that is saying a lot, seeing as we are a family who practically lives on salads.
No strange ingredients, but this combination is just wow ! To be honest, I would say the creamy dressing, which is more like a thick sauce, makes this salad. One taste and you will be hooked.
A couple of days after we had this salad the first time, we had some snacks, but I had forgotten to get our usual dips and I also were not in the mood to make something complicated.
I then remembered this dressing-sauce, and made a batch for dipping. What a surprise, it was delicious, so now we not only have a new dressing, but a sauce and a dip all in one.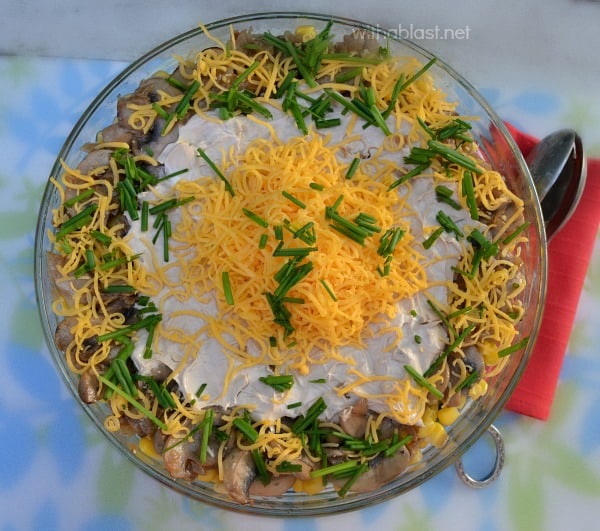 No need to feel guilty afterwards as well, as the salad ingredients are diet-friendly to most diet plans I know of and the dressing-sauce is made with low-fat Cottage Cheese. Therefore, dig in, I surely did as did my health conscience mom-in-law who lives with us now.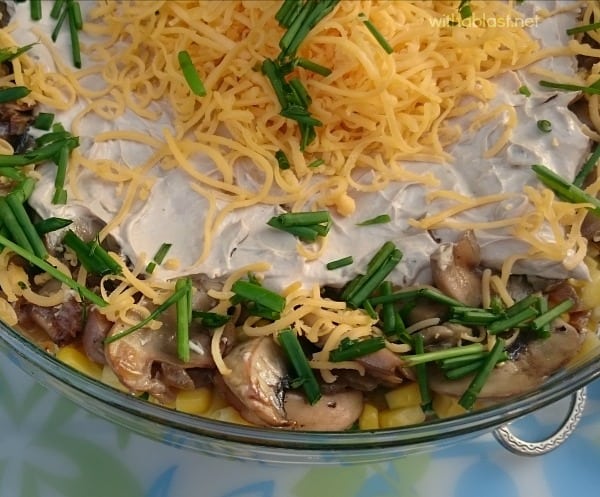 The only bit of cooking is the sauteing of the Onion and Mushroom, but that takes only a couple of minutes and you can get it ready in advance.
As I am typing this post, I quickly counted the layers, I count eleven layers, which makes it the most layers in a salad I have ever seen. Ten layers, yes, seen that, but I have never really looked at the ingredients of layered salads until I made this best Layered Salad.
Best Layered Salad
10 – 12 Servings
INGREDIENTS:
1 TB Vegetable Oil
1 Onion, finely chopped
250g Mushrooms, sliced
1 1/2 cups Lettuce, shredded
1 cup Mixed Bean Sprouts
1 cup Celery Ribs, chopped
2 Red Bell Peppers, chopped
2 Yellow Bell Peppers, chopped
2 cups Frozen Peas, defrosted
2 cup Frozen Corn, defrosted
3 TB Brown Onion Soup Powder
1 cup Low-Fat Cottage Cheese, smooth, plain
3 TB Low-Fat 1000 Island Salad Dressing
1 cup Cheddar Cheese, grated
1/2 cup Fresh Chives, chopped
DIRECTIONS:
1.) Heat the Oil in a pan – saute the Onion until soft – add the Mushrooms and stir-fry until soft and golden – remove from heat and let cool.
2.) Start your layers in this order : Lettuce, Bean Sprouts, Celery, Red Bell Pepper, Yellow Bell Pepper, Peas, Corn and the cooled Mushroom mixture.
3.) Combine the Soup Powder, Cottage Cheese and Salad Dressing – spoon over the Mushrooms, followed by the Cheddar and ending with sprinkling over the Chives.
Serve chilled. I made the salad a day in advance once, covered the bowl with plastic wrap and it was still fresh, crispy, crunchy and delicious the following day. As long as you do not mix up all the ingredients, and cover the bowl well, this will make a fantastic picnic or potluck salad.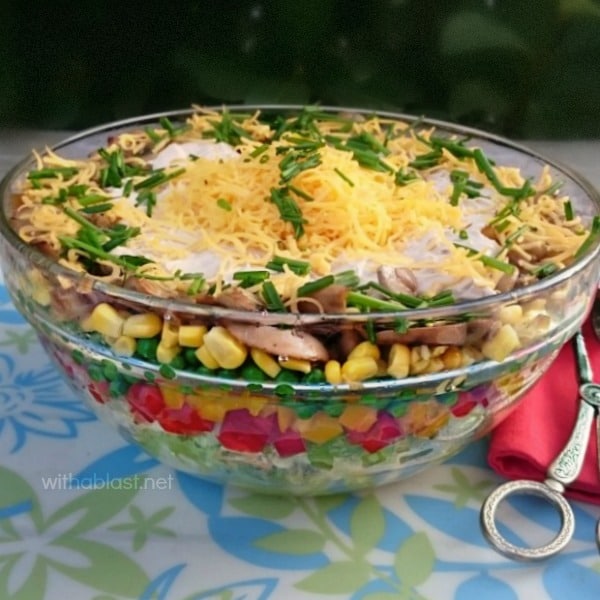 LINDA