Beef Stroganoff with Wholegrain Mustard is a delicious alternative to the usual Stroganoff – made with all pantry ingredients within 15-20 minutes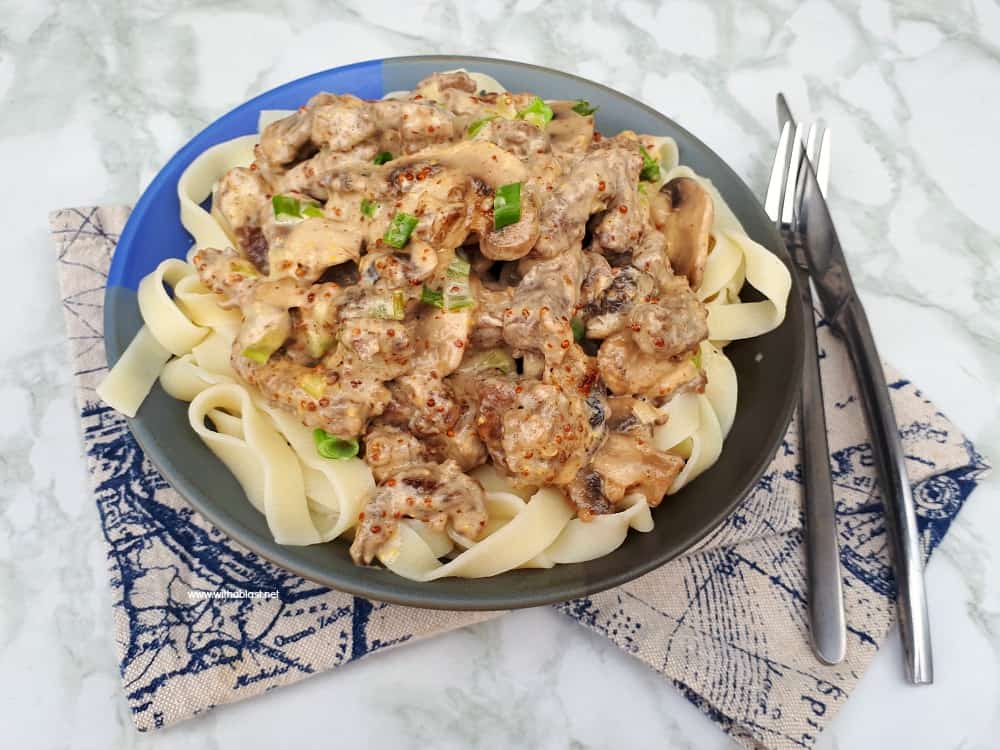 This Beef Stroganoff with Wholegrain Mustard is a wonderfully tasty beef recipe. A little different than the usual Beef Stroganoff, but totally delicious !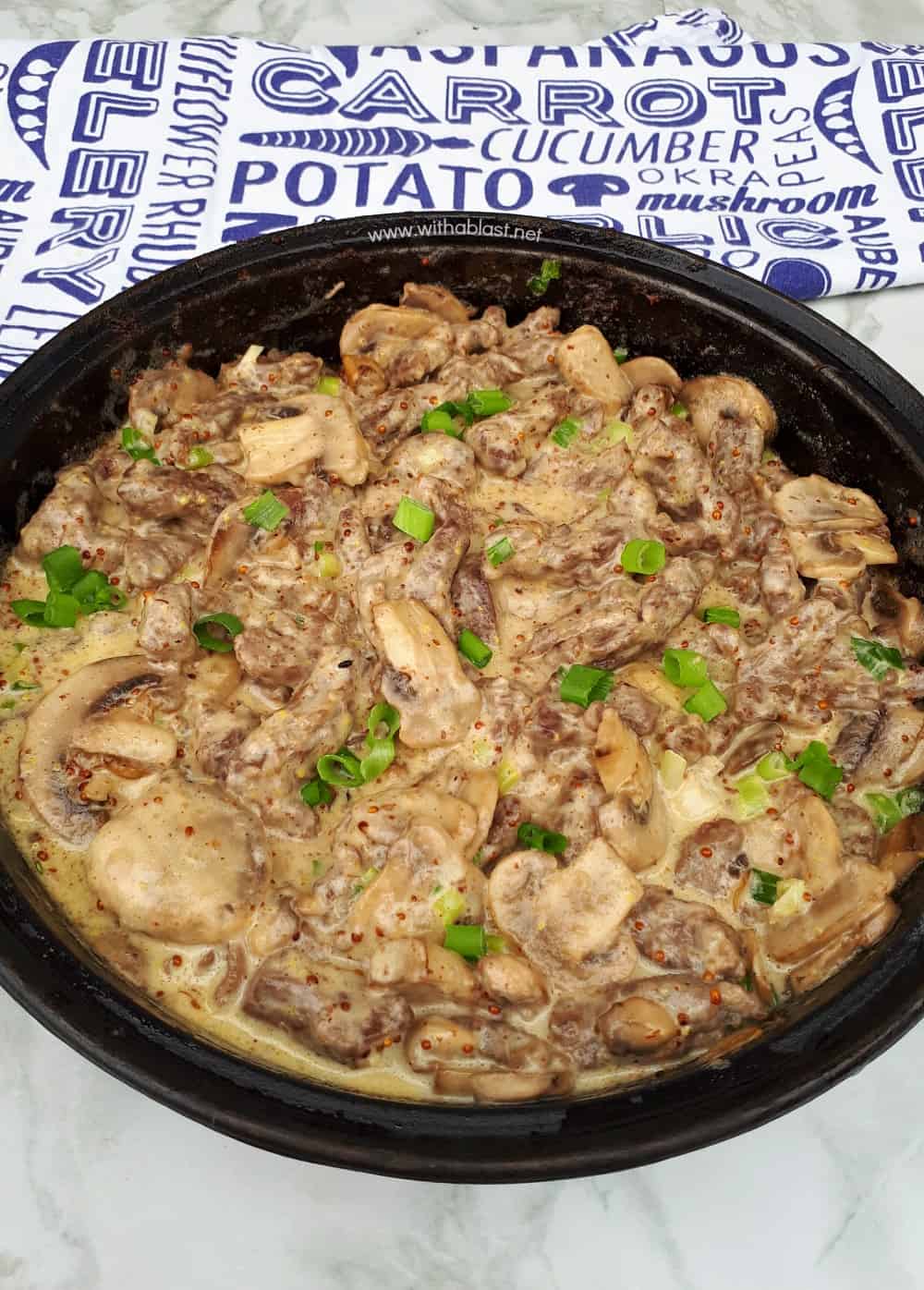 I have a recipe book called one-two-three On The Table by Bernice van der Merwe and have made quite a few of the recipes in the book already.
It is filled with quick and delicious recipes and she even gives a list of 20 / 30 / 40 minute meals which one can choose from.
Sometimes I will be so busy with something else, I'll forget about dinner !
Really ! If it wasn't for hubby, who likes "reminding" me about dinner, we would probably starve to death.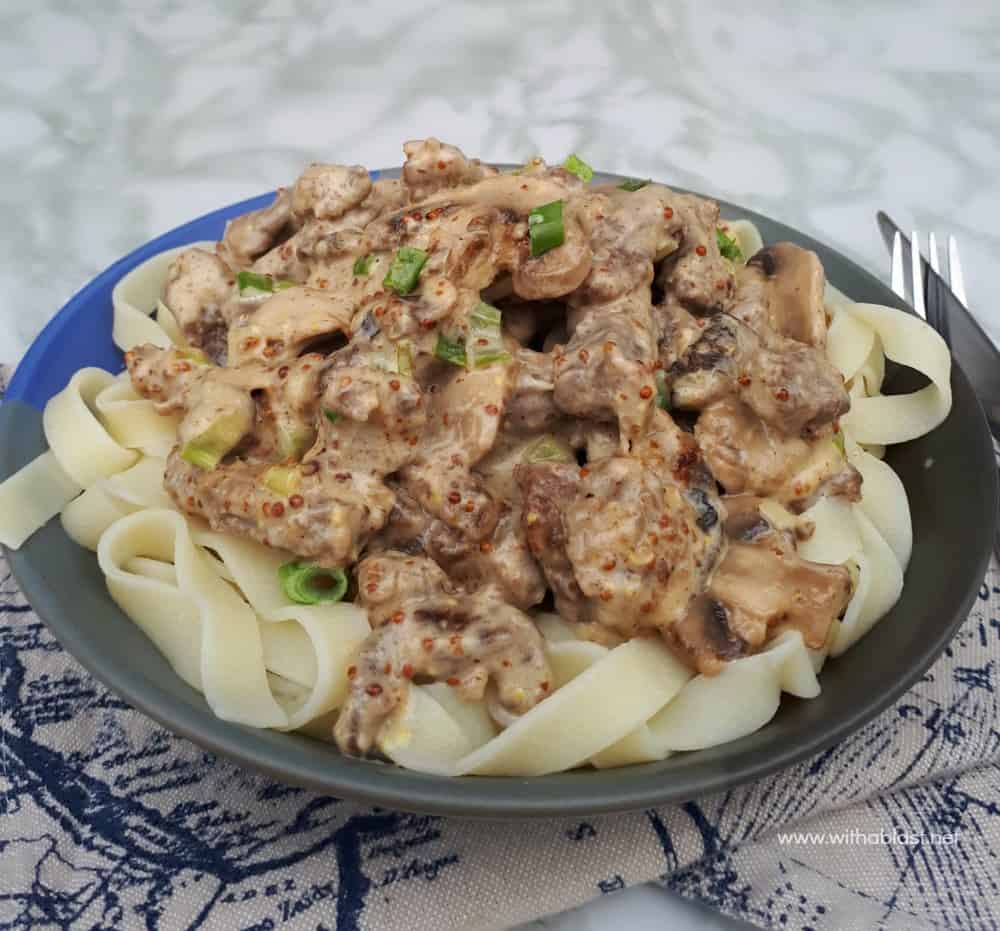 With the kids away so much these days, I do not really have a menu plan as I used to. So, for now, we buy groceries daily or maybe for two days at a time.
Therefore this is why I love this recipe book – I forgot about dinner the other night, and once I was reminded, by said husband! , I was glad to find this quick recipe and I had almost everything on hand.
I did adapt the recipe slightly, but it turned out great – and we are pasta lovers anyway.
You will find that this recipe is very quick ! Once your Pasta is on the stove, start with the Stroganoff immediately and all will be done at the same time (15 – 20 minutes!) – depending on how you cook your pasta, of course.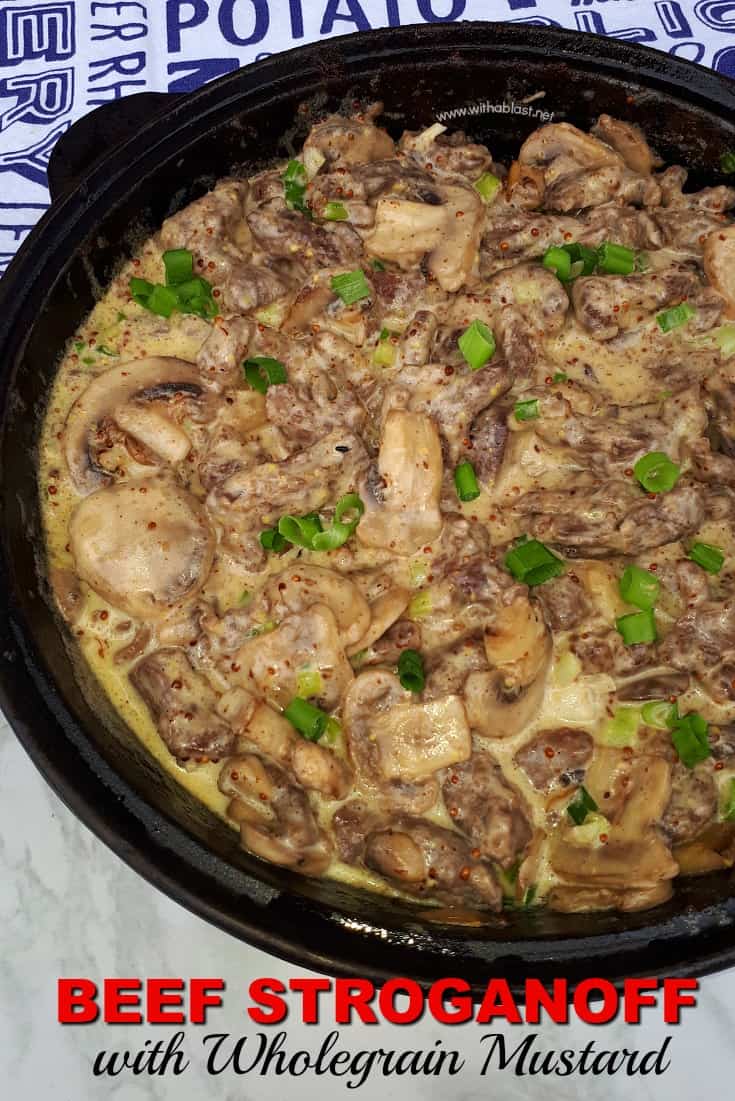 Add this recipe to your next weekly/monthly menu and surprise your family with an already favorite – with a twist they are sure to love !
Do remember that the recipe for this Beef Stroganoff with Wholegrain Mustard can easily be doubled as well.
More Beef recipes you might like:
Beef Stroganoff with Wholegrain Mustard
Yield: 4 Servings
Beef Stroganoff with Wholegrain Mustard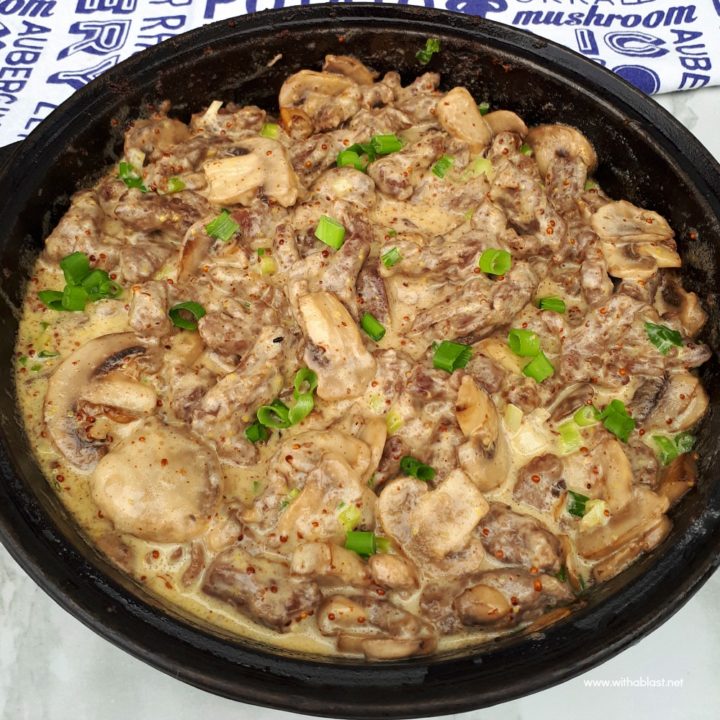 Beef Stroganoff with Wholegrain Mustard is a delicious alternative to the usual Stroganoff - made with all pantry ingredients within 15-20 minutes
Ingredients
1/3 cup Flour
1 t Mustard Powder
Salt and Black Pepper, to taste
450 g Beef, strips ( 1 pound )
2 TB Vegetable Oil
2 TB Unsalted Butter
250 g Mushrooms, sliced ( 8 oz )
6 Spring Onions, chopped
1 cup Fresh Cream (whipping cream/double cream)
3 TB Wholegrain Mustard
2 TB Brandy
Instructions
Combine the Flour, Mustard Powder, Salt and Pepper in a medium bowl – add the Beef strips and make sure it is covered with the Flour mixture

Heat half the Oil and half the Butter in a large skillet – stir-fry the Beef over high heat in batches – remove from skillet and keep aside

Heat the remaining Olive Oil and Butter in the same skillet – saute the mushrooms and Spring Onions for 5 minutes – season with Salt and Pepper

Return the Beef to the pan with the Mushrooms/Spring Onions – add the Cream, Wholegrain Mustard and Brandy – bring to the boil and then turn the heat down – simmer 3 – 5 minutes

Remove and serve over pasta or rice
Notes
Delicious served over Tagliatelle !
Nutritional values exclude pasta
Nutrition Information
Yield
4
Amount Per Serving
Calories

637.9
Total Fat

46.7g
Saturated Fat

26g
Unsaturated Fat

13.4g
Carbohydrates

14.7g
Fiber

3.8g
Sugar

4.3g
Protein

40.8g
Nutrition information isn't always accurate
LINDA