Strawberry Cream Cheesecake is a make-ahead friendly, no-bake recipe with layers of cheesecake, pudding and cream on top of a quick and easy crust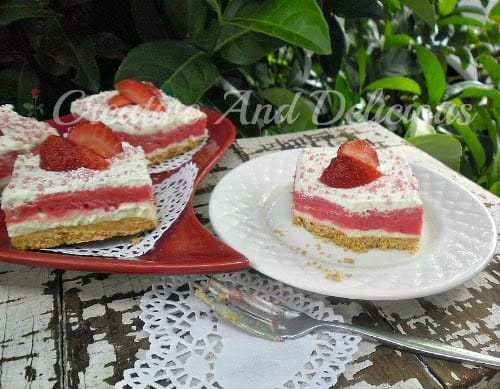 Strawberry Cream Cheesecake is the perfect make-ahead dessert. Although the fresh Strawberries on top should only be added right before serving.
I am still on a strawberry high, as you can see ! But this time it is the creamiest cream dessert I have had in a long time.
This Cheesecake is just that ! Delicious crust, with a creamy Cheesecake layer, followed by a Strawberry pudding and topped with whipped Cream and fresh Strawberries.
I would definitely recommend this as a Valentines Day dessert, or for that matter any special occasion.
Heart sprinkles can be added for Valentines Day, tiny pink pearls for Mother's Day, or you can simply leave the Cheesecake with only the Strawberries as decoration.
Every year, as soon as fresh Strawberries hit our store shelves, this Creamy Cheesecake is one of the first desserts I make.
Obviously I do not make the Cheesecake only on special occasions ! But my family loves it, and it is always welcome on our dessert menu.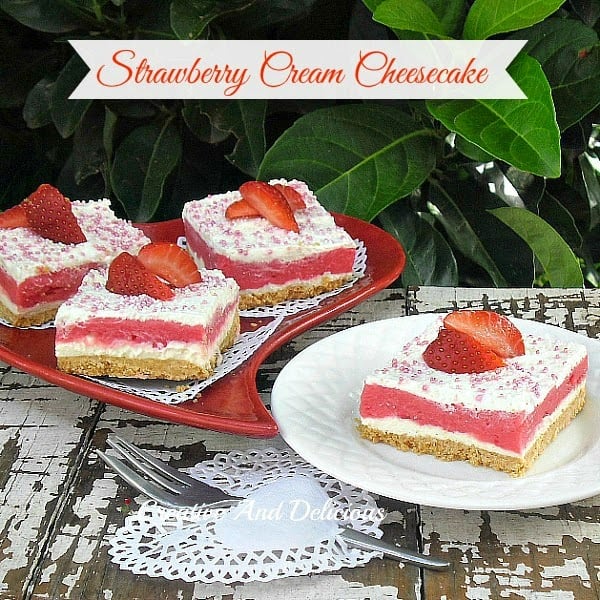 The Strawberry Cream Cheesecake also has no strange or expensive ingredients. And you can make it a day in advance, only leave the fresh Strawberries until you are ready to serve.
Strawberry Cream Cheesecake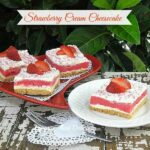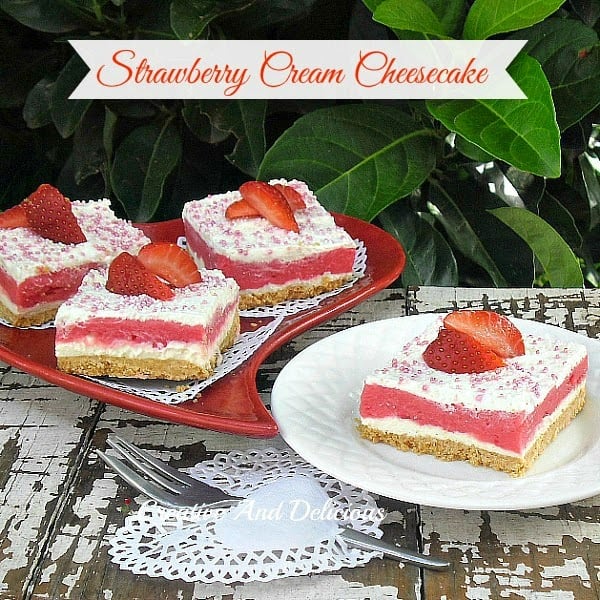 Strawberry Cream Cheesecake
Strawberry Cream Cheesecake is a make-ahead friendly, no-bake recipe with layers of cheesecake, pudding and cream on top of a quick and easy crust
Ingredients
200

g

Biscuits

finely crushed, Tennis Biscuits or Graham Crackers ( 7 oz )

1/2

cup

Butter

melted

250

g

Cream Cheese

plain, softened ( 8 oz )

3/4

cup

Icing Sugar

1

cup

Fresh Cream

(whipping cream/double cream)

2

boxes

Strawberry Instant Pudding

( 4 serving size boxes )

Milk

as per the instructions on the Pudding boxes (but ONLY 3/4)

Fresh Strawberries

to decorate

Sprinkles
Instructions
Line a 20 x 20cm ( 8 x 8 inch ) dish with baking paper – let the edges hang over for easy removal

Mix the Biscuit crumbs and the Butter – press into the bottom of the lined dish – chill for 20 minutes

Beat together the Cream Cheese and Icing Sugar – keep aside

Whisk the Fresh Cream until stiff peaks form – add half of the whipped cream to the Cream Cheese mixture – fold in gently

Spoon the Cream Cheese over the crust and make it level

Prepare the Instant Pudding as per the directions ( remember to only use 3/4 of the Milk required ) – leave to stand 3 minutes

Spoon the Pudding over the Cream Cheese and top with the remaining whipped Cream

Chill 6 hours in the refrigerator or until set

Decorate with Fresh Strawberries and Sprinkles – slice and serve
LINDA
You Might Also Like :