How to get your Kitchen Cabinets Organized – Quickly and easily, using only one type of inexpensive basket – no DIY knowledge (or any tools!) required !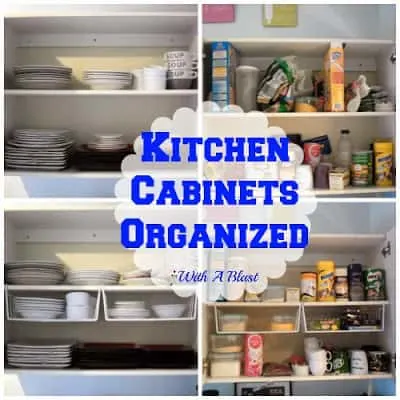 Today I'm hanging out my dirty laundry .. uhm, messy kitchen cabinets, actually! I am (most of the time) a fairly well organized person in my kitchen – I repeat, in. my. kitchen.
I know where everything is, it's just a pain in the backside to get to most of the stuff.
So, here we are .. I decided to clean up a bit and get my Kitchen Cabinets Organized.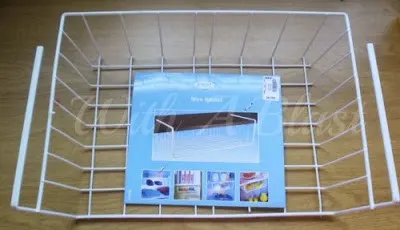 Right, see the basket thingy above? I'm sure you have seen it before, or maybe you have some!
These baskets are called Under Shelf Wire Racks which you hook over a shelf. They are all over Pinterest, in most home stores – everywhere !
Then why did I not get some ages ago?? No idea ! Maybe ignorance or I might have thought it won't be strong enough …
I started off by buying two (for one cabinet). After we slipped them in place, I was so impressed, I bought another two for the cabinet next to the one already done.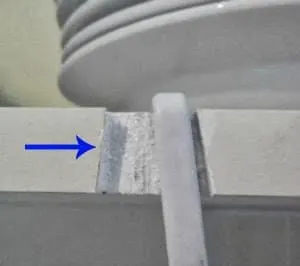 Small problem solved easily
We had a slight problem – when we slipped the clips over the shelf, the cabinet door banged against it and wouldn't close properly.
Nothing huge – we made some grooves into the front piece of the shelf and Voila! .. problem solved. You can see we painted the open wood to blend in.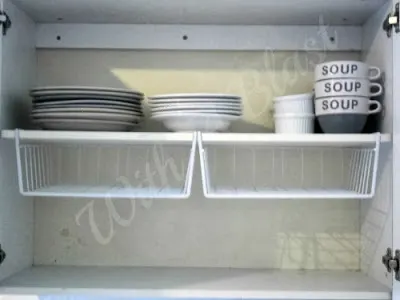 Right, here we have the first two slipped over the shelf's edge and a bit later we did the same with the 2nd shelf.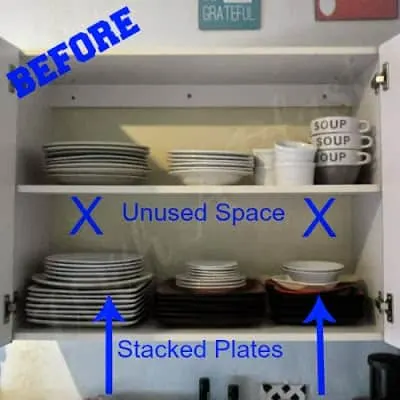 A Closer look – This is my everyday plates, soup mugs and a few things I use for the blog. Normally we use the larger, square plates and as you can see, they're at the bottom of the stacks.
Now, to most people that's not a problem (or is it?). Me, personally .. I hate taking the top plates down to get to the bottom plates and re-stack the lot again.
The Unused Space needs no chit-chat – it's available, but I'm not using it !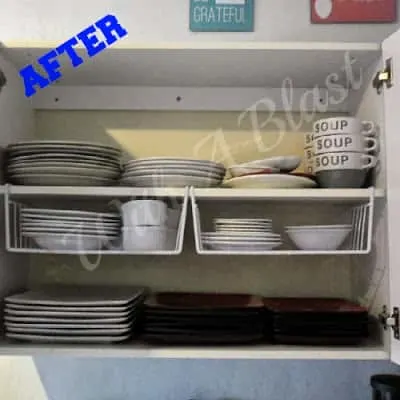 Now, look at the AFTER – the only "mixed" stack, is the one on the top shelf, next to the Soup mugs – that's fine, I use that mostly for blog photos, so I do not mind them being stacked.
Before the Kitchen cabinets were a mess !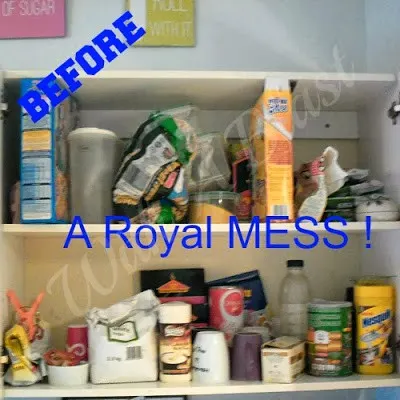 Okay, here we get to the messy part – one of the busy cabinets. The coffee/tea bar is right below this cabinet (the everyday mugs are also on that bar).
Besides one or two items, all this do belong in this cabinet – the cereals. The breakfast bar is immediately to the right of this cabinet), all types of beverages, except the Coffees I like to keep in the refrigerator.
Polenta, rice, sugar, odd cups/mugs, coffee filters – these belong here, but definitely not like this !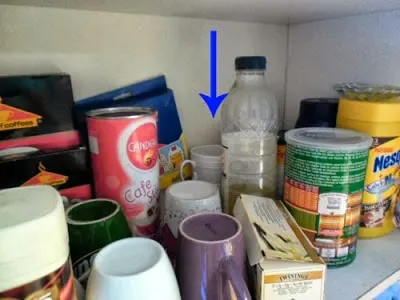 Let me show you a couple of peeks – the tea cups? in the far back corner behind other items ?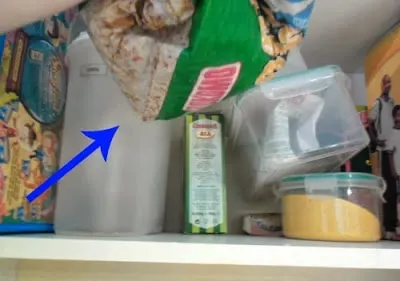 Uhm, yes, I have these cereal containers .. no, not using them, just stuff the bag of cereal on top – why not ? That ended today !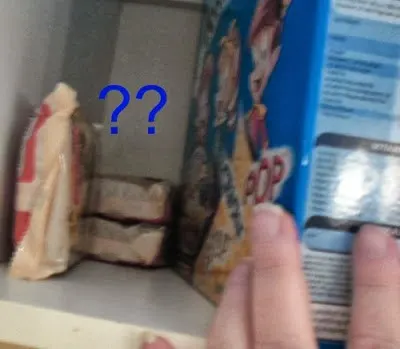 What do I have here behind, yet, another box of cereal? 2 Minute Noodles …. didn't know we had some – aanndd all the packages expired early 2013!
You see what happens when one can not SEE what's in the cabinets?!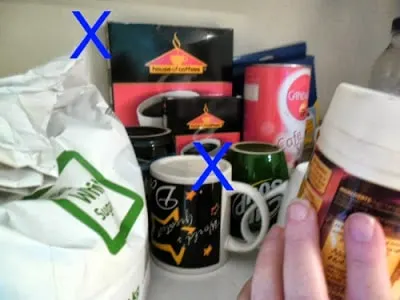 I am forever searching for the correct size/type coffee filters – there's some at the back, mmm. Odd mugs, all over the shelf.
Kitchen Cabinets Organized
So much nicer after we added the baskets !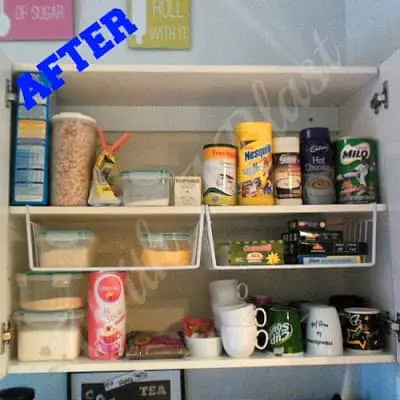 Finally, with the new wire racks, I sorted everything, threw out a lot (expired!).
The top shelf here, is not utilized 100%, there are loads of space left behind the Milo, Nesquik etc, but I'll transfer some other items, which I do not use often, into this area.
I am quite short and can not reach the back of the top shelf anyway, so no biggie there.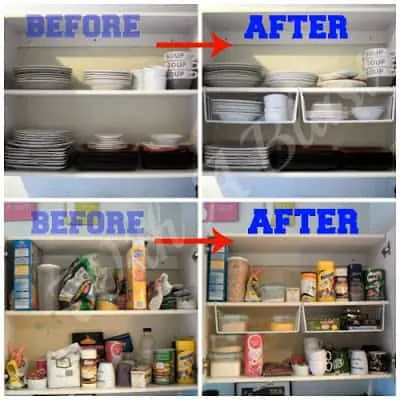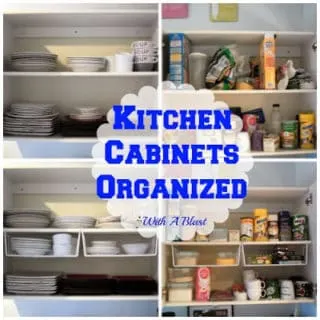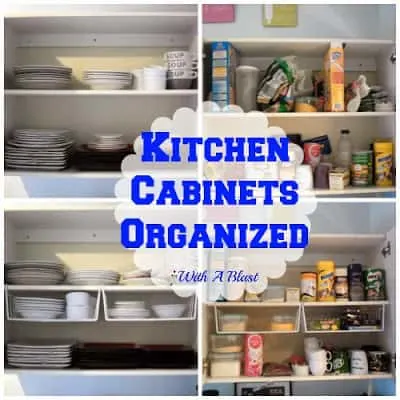 Kitchen Cabinets Organized !
How to get your Kitchen Cabinets Organized - Quickly and easily, using only one type of inexpensive basket - no DIY knowledge (or any tools!) required
Materials
Under Shelf Wire Racks (see note below)
Instructions
Simply slide over a top shelf to add more storage space to the lower shelf
Notes
Price and quantities are depended on individual needs
So inexpensive – but makes such an impact !
These baskets are inexpensive and so easy to use, I'm glad I finally caught on and think my cabinets look much, much better and more organized !
If you are anything like me,,, next time you see something like this, which makes sense, easy to use and is cheap – don't wait – get some and start organizing !
And remember, these baskets can be used on any shelf, not only in the kitchen.
ps: I'm getting more for the other cabinets in the kitchen as well – SOON!
UPDATE (2017) : Also see our new Walk-In Pantry where I have used these baskets !
LINDA
Remember to PIN !