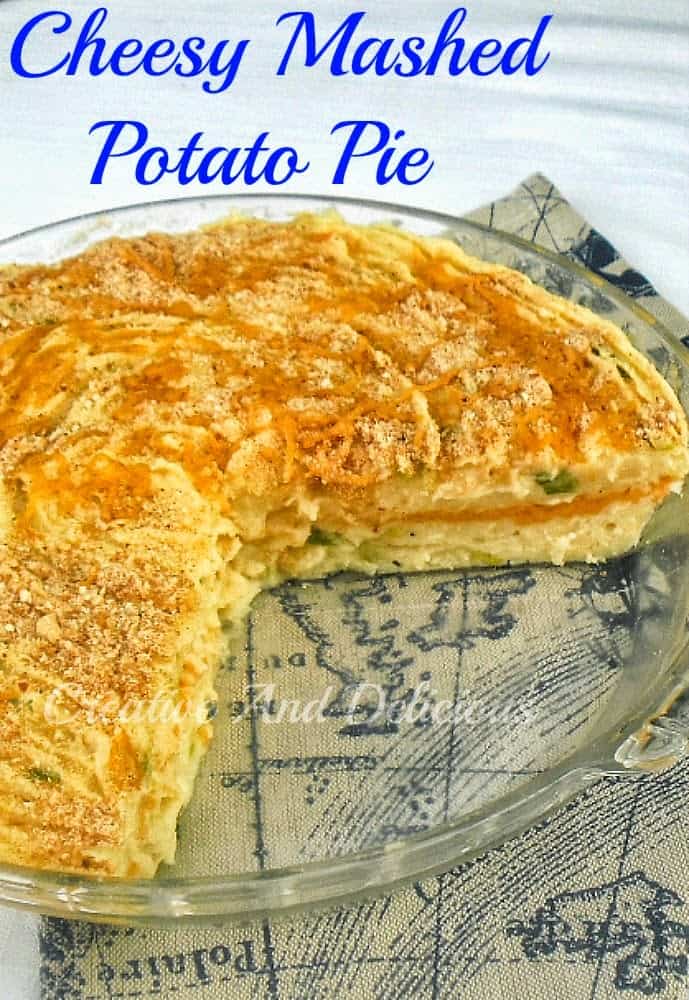 We are huge and I mean HUGE fans of mashed potatoes as for one, it is a delicious creamy side dish and secondly, mashed potatoes go with just about everything.
I have made mashed potatoes baked in a muffin tin, which I shared over at With A Blast some time ago, we have it the old-fashioned way – simply cooked mashed potatoes with added milk and butter.
But, this cheesy mashed potato pie tops them all ! If there is one thing I am absolutely certain of, my family LOVE cheese especially combined with any kind of potato dish.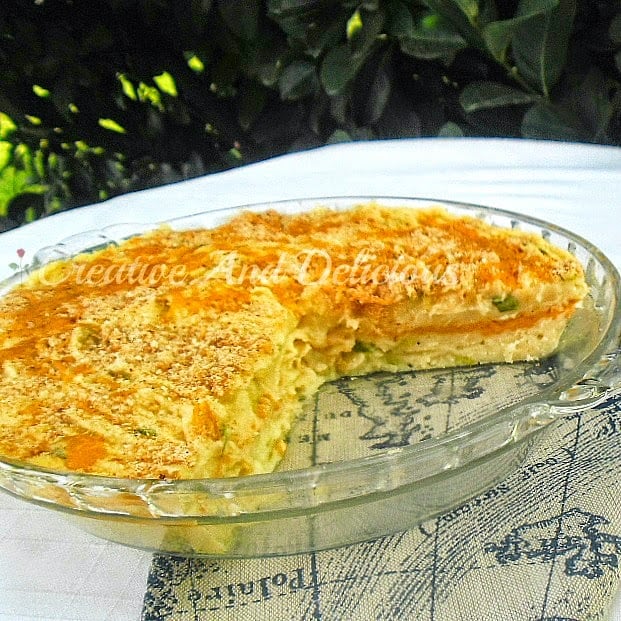 Just look at that ! Two layers of delicious mashed potatoes with a just-thick-enough center layer of cheese – mouthwatering to say the least.
CHEESY MASHED POTATO PIE
8 – 10 Servings
INGREDIENTS:
source: All-Time Favorite Recipes
1.4 kg Potatoes, peeled and cut into pieces
2 t Garlic, crushed
6 TB Butter
3/4 cup Parmesan Cheese, finely grated, divided
1/2 cup Spring Onions, chopped
1/3 cup Light Cream
2 Eggs, beaten
Salt and Pepper, to taste
1/2 t Cayenne Pepper
1 1/2 cups Cheddar Cheese, grated, divided
2 TB Dry Bread Crumbs
2 TB Butter, cubed
DIRECTIONS:
1.) Place the Potatoes and Garlic in a large saucepan – cover with water and cook until the Potatoes are tender.
2.) Meanwhile, pre-heat the oven to 180 deg C (350 deg F) – spray a 25cm glass oven pie dish with cooking oil.
3.) Drain the Potatoes and place back into the saucepan – stir-fry the cooked Potatoes over medium heat in order to dry them out a bit more – remove from heat – add Butter and mash.
4.) Add 1/2 cup Parmesan Cheese, Spring Onions, Cream and the Eggs – mash until light and fluffy.
5.) Season to taste with Salt, Pepper and the Cayenne Pepper – spoon half the mixture into the prepared oven dish – top with 1 cup Cheddar Cheese, pressing the cheese down slightly – spoon the remaining mashed Potatoes over the Cheddar Cheese.
6.) Sprinkle with the remaining Parmesan, the Bread Crumbs and the remaining Cheddar Cheese.
7.) Dot with the cubed Butter and bake for 10 minutes or until golden brown.
8.) Cut into wedges and serve.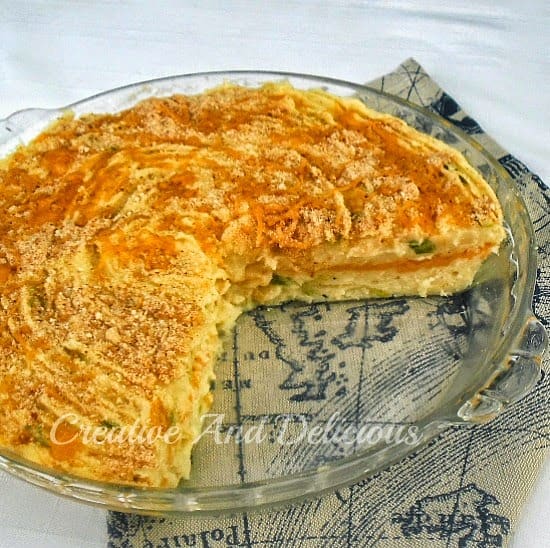 Linking up with these parties – also see my Party List: