Easy, mix and bake Three Meat Savory Tart, perfect for dinner, lunch and can be served warm or cold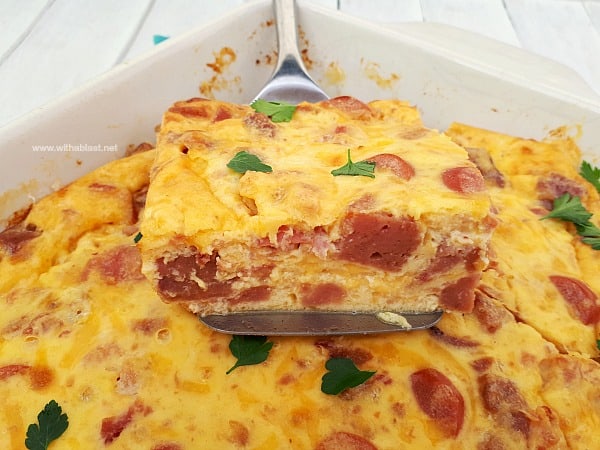 Today we did some grocery shopping at two of the busiest supermarkets ! After all that, all I wanted to do was to put my feet up and relax.
Fortunately dinner is not a problem, as I decided to make this Three Meat Savory Tart. Which is always a life saver, time wise, as well as that my family loves this tart.

It is such a simple recipe – Make a White Sauce, mix it up with a few other ingredients and pop into the oven. While that's in the oven quickly make a salad and from start to finish food will be on the table within one hour. TOPS.
My late Mom used to make something similar and this recipe always remind me of her. It is not exactly the same as hers, but very close. The tart is equally delicious served hot or cold and slicing is a breeze.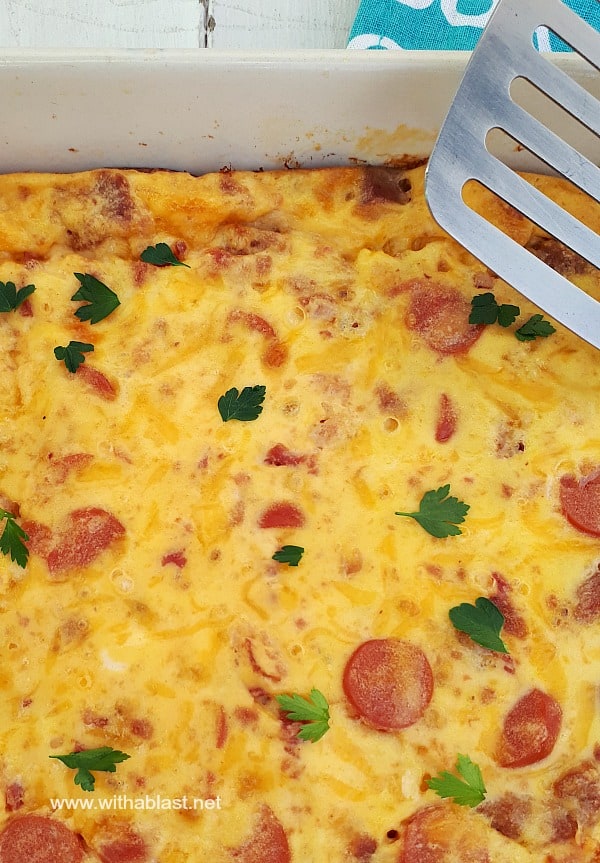 The savory tart puffs up quite a bit whilst baking but settles again during the 5 minutes or so of cooling. We enjoy this tart for dinner (with a dinner roll and usually one or two side salads). Or for lunch, sliced into slightly smaller portions and only one salad.
Leftovers are great for the lunch box or a picnic. The sliced portions are very sturdy and you would not even need a knife and fork, only your hands !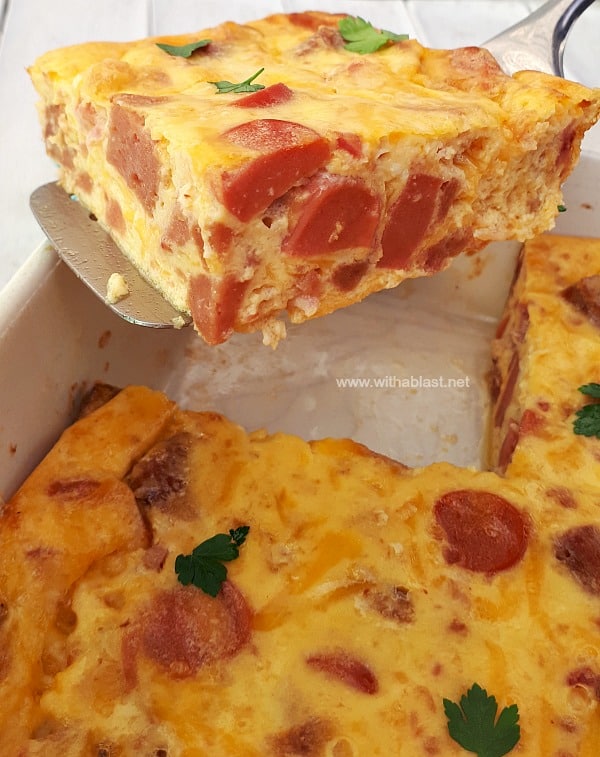 Three Meat Savory Tart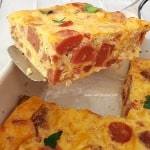 Three Meat Savory Tart
Easy, mix and bake Three Meat Savory Tart, perfect for dinner, lunch and can be served warm or cold
Course:
Light Dinner, Lunch
Ingredients
1/4

cup

Butter

1/4

cup

Flour

2

cups

Milk

1

cup

Viennas

sliced into rings (Hotdog Sausages)

1

cup

Bacon Bits

2

cups

Cheddar Cheese

grated

1

tin (300g)

Corned Beef

cut into tiny pieces (Spam)

4

Extra-Large

Eggs

beaten

1

TB

Parsley

chopped
Instructions
Pre-heat oven to 180 deg C (350 deg F) and lightly spray a 20 x 30cm (9 x 12 inch) oven dish with cooking oil

Use a microwavable bowl – melt the Butter – add the Flour and mix until a paste has formed, slowly add the milk, stirring every now and then to combine the paste and the Milk. (make sure to scrape the sides and bottom as the paste clings a bit)

Microwave at full power for two minutes, remove and stir to break up any clots before returning the sauce to the microwave – repeat this step about three times, but with one minute intervals. As soon as the sauce is thick, put aside to cool slightly. (around 5 minutes will do)

Meanwhile, add the Viennas, Bacon, Cheddar, Corned Beef and the Eggs to a large mixing bowl – mix well to combine all and then add the cooled White Sauce – mix well again

Transfer mixture to the prepared oven dish – bake 40 – 45 minutes until puffy and light brown
Remove from oven, sprinkle over the Parsley and let stand for five minutes to settle. Serve with a dinner roll, vegetables or salads on the side.
LINDA