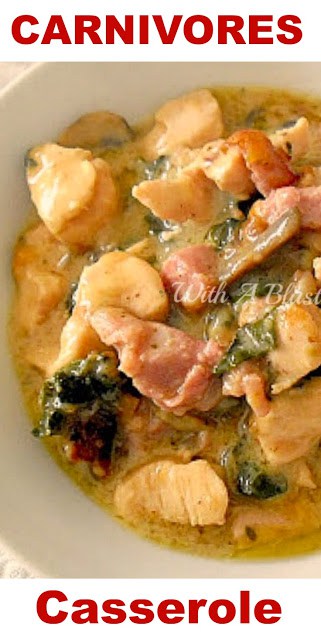 I have been making this Carnivores Casserole regularly since I found it on Pinterest months ago.
This dish has actually become one of our favorites ! And I simply do not know why I have never shared it on the blog.
I normally only serve it with rice, no other side dishes, and it is more than enough for 6 adults. Beware… this is one of those dishes which you can not stop eating until it's all gone!
When I decided to make it again, I went searching my Pinterest board for the recipe, as I had only a short-hand written copy. I found it after what felt like going through thousands of pins!
I wanted to give you the link to where I pinned it from which you can find HERE , but it seems the original recipe is no longer at this link. Two reasons why I wanted to give you the link 1.) to give credit where it is due and 2.) I made a note that I adapted the recipe slightly and I wanted to see why and what I have changed.
Carnivores Casserole
INGREDIENTS:
250g Bacon Bits
5 Large Chicken Fillets, cubed
Salt and Freshly Ground Black Pepper
1 TB Butter
2 t Garlic, minced
1 Onion, sliced
250g Mushrooms, sliced
200 – 300g Spinach
1 can (410g) Cream of Mushroom Soup
1/4 cup White Wine
1 t Italian Herbs
1 TB Lemon Juice
1 cup Fresh Cream (double cream)
1 cup Milk
2 cups Mozzarella Cheese, grated
DIRECTIONS:
1.) Pre-heat oven to 200 deg C (400 deg F) – spray a 20 x 30 centimeter oven dish with Spray 'N Cook.
2.) Fry the Bacon Bits until crisp – remove from pan with a slotted spoon and keep aside.
3.) Using the same pan, stir-fry the Chicken until done, season to taste with Salt and Black Pepper – remove from pan and keep aside.
4.) Add the Butter, Garlic, Onions and the Mushrooms to the pan – cook until the Onions are translucent and the Mushrooms are soft and brown – add the Spinach and saute until wilted, stirring regularly.
5.) Spread the Mushroom mixture on the bottom of the prepared oven dish – add the Chicken on top.
6.) Pour the Mushroom Soup into the pan together with the White Wine, Italian Herbs and Lemon Juice – stir continuously until hot – add the Fresh Cream and Milk, simmer 5 – 10 minutes until it start to thicken.
7.) Pour the Sauce over the Chicken in the oven dish, sprinkle with Mozzarella and top with the crispy Bacon.
8.) Bake 30 minutes.