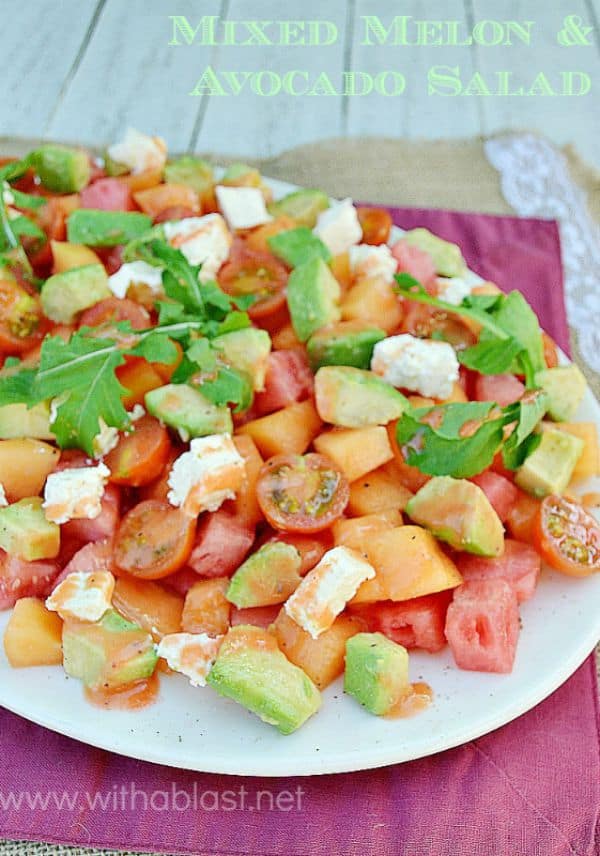 I shared the recipe for this very fruity, kid-friendly Mixed Melon and Avocado Salad at The V Spot a few weeks ago, and am now sharing it with you here on With A Blast in case you missed it.
No matter the season, Summer or Winter, you will find at least a dozen families in our small neighborhood with a fire lit, ready for barbecuing just about every weekend, Friday evenings and/or Saturday afternoons, and just about any other holiday.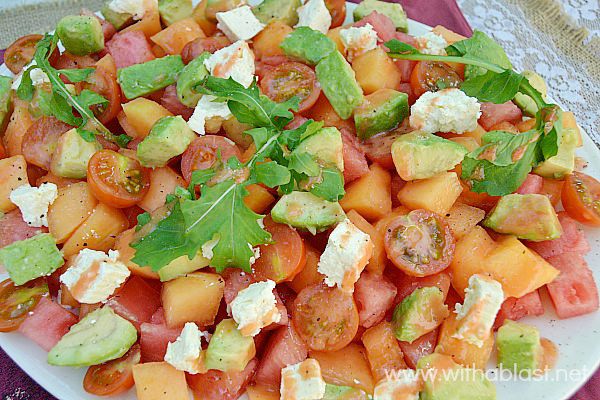 Watching a Rugby game, our biggest sport in South-Africa, just won't be the same without a fire going and some juicy, delicious rump steaks, skewered meats/vegetables and salads outside in the barbecue area or next to the swimming pool with a cocktail in hand of course !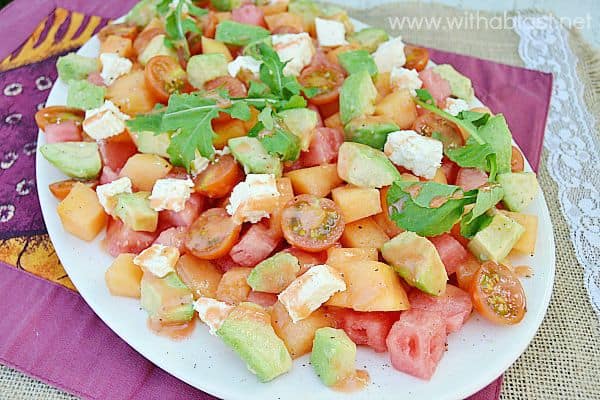 Getting to the recipe, the roasted tomato dressing is absolutely delicious and a huge favorite of ours, which can be used on so many different types of salads.
I normally make the dressing the night before, keep it chilled and when I put the mixed Melon and Avocado Salad together, we are talking minutes here to get the salad together.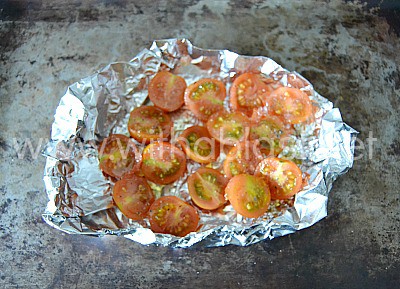 A bit of cubing, slicing and tossing of the salad ingredients are quick and easy, especially if you can get hold of already cubed fresh Mixed Melons, which I normally get from our supermarket where we buy our daily fruits and vegetables.
If you rather prefer your salad with the dressing on the side, I have to tell you that the color and smooth texture of the dressing is absolutely lovely and would look great, in a small glass dressing container, next to the salad for your guests to help themselves to.
Mixed Melon and Avocado Salad
8 Servings
INGREDIENTS:
Dressing:
8 Cherry Tomatoes, halved
1/2 cup Olive Oil, divided
Salt and Black Pepper, to taste
1 TB Dijon Mustard
2 TB Lemon Juice
1 TB Red Wine Vinegar
1/4 t Sugar
Salad:
3 cups Mixed Melon, cubed {i.e. Watermelon, Cantaloupe, etc}
2 Avocados, cubed
1 1/2 cups Cherry Tomatoes, halved
2 Rounds Feta Cheese, cubed or crumbled
Baby Arugula leaves, to garnish {optional}
DIRECTIONS:
1.) Pre-heat the oven to 200 deg C (400 deg F) – form a small "bowl" using aluminum foil {see photo above} – spray with cooking oil and place on a baking sheet or oven dish.
2.) Place the Tomatoes for the Dressing in the aluminum bowl – drizzle with 2 TB Olive Oil and season lightly with Salt and Pepper – bake 15 minutes or until soft and bursting from the skin – remove from the oven and let cool.
3.) Once the Tomatoes have cooled, transfer to a blender together with the remaining Olive Oil, Mustard, Lemon Juice, Vinegar and Sugar – blend until smooth {discard any Tomato skins which might still be visible} – chill until ready to use.
4.) Toss together the Salad ingredients – transfer to a serving platter or salad bowl – drizzle with the Dressing and garnish with Arugula {if using}
Serve immediately. {if serving a little later, be sure to lightly drizzle the Avocado cubes in some Lemon juice to prevent discoloration}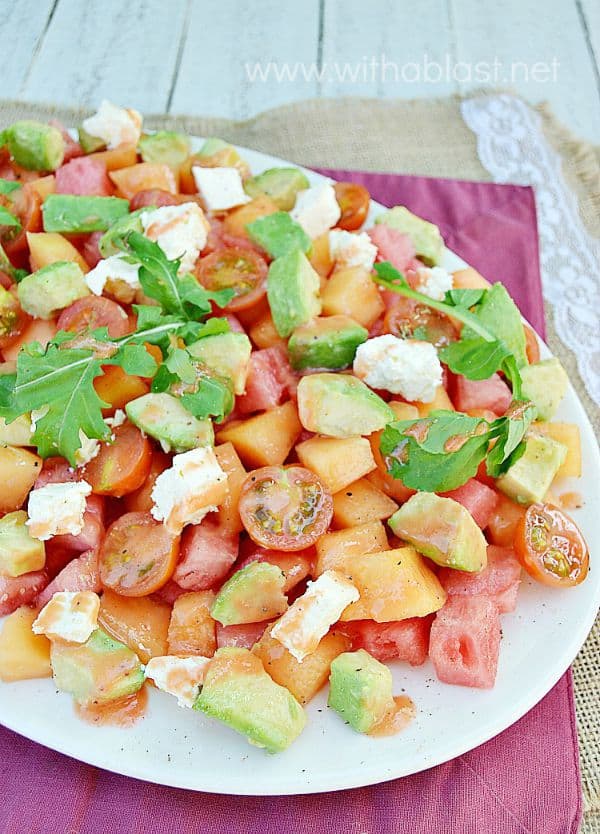 LINDA