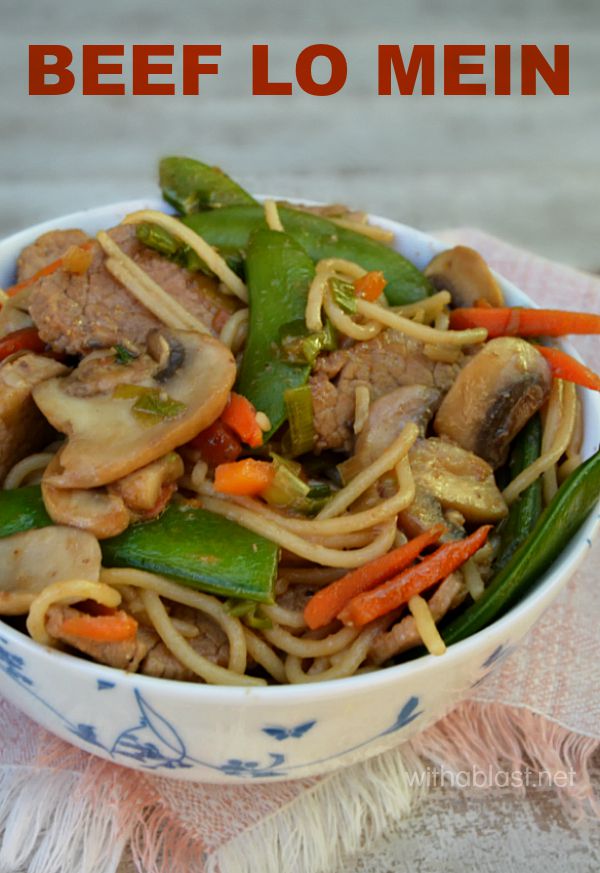 All our Chinese restaurants have moved away from our area, either to the bigger malls or some have simply closed down, which is a shame as we love Chinese food. On my mission to start making our favorite take-aways at home, I decided to give the Beef Lo Mein a try.
The vegetables turned out tender, yet still crisp, just the way it is supposed to be and by my timing it took about the same amount of time as what we used to wait when we ordered in the restaurant.
No driving to and from the restaurant is also a bonus (we never had a Chinese restaurant delivering).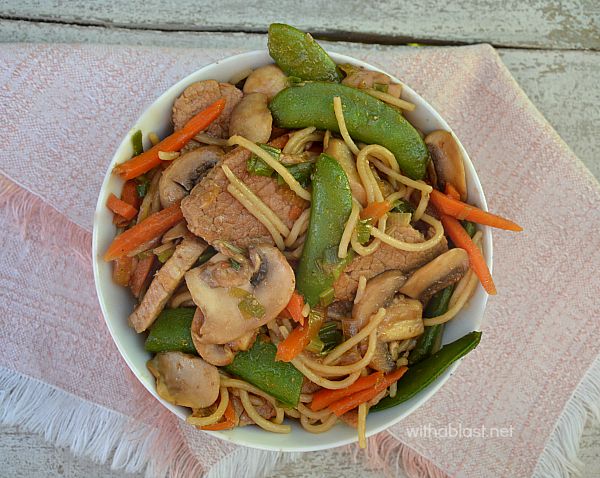 I know Spaghettini is not always available, at least not in our usual supermarket, therefore I tried the recipe using Spaghettini as shown on the pics and also used plain old Spaghetti the second time. To be honest, there was no difference in taste, but we all agreed that the thinner pasta made the Beef Lo Mein a little more Chinese.
You can play around with the quantities of the vegetables, if you prefer more Carrots, by all means, add more, or you might not like Sugar Snap Peas ? Try young Green Beans instead, makes the dish just as delicious.
As for the Beef, I used what we call "Minute Steaks" in South-Africa. The Steaks are already thinly sliced and about 5 centimeters (2 inches) in diameter, which I then slice in half. The thickness of the Steaks are only around 5 millimeters, therefore the meat cooks very quickly and by the time your pasta is ready, the Beef and vegetables should also be ready and you can mix things up, heat through and serve in under 20 minutes.
Beef Lo Mein
6 Servings
INGREDIENTS:
500g Spaghettini
3/4 cup Beef Stock
1/2 cup Soy Sauce
2 t Brown Sugar
2 TB Sesame Oil
1 kg Beef, thinly sliced
6 Spring Onions, chopped
1 1/2 cups Carrots, julienned
250g Mushrooms, sliced ( 8 oz )
1 cup Sugar Snap Peas
DIRECTIONS:
1.) Cook the Spaghettini according to the instructions on the packet, drain and set aside.
2.) Combine the Beef Stock, Soy Sauce and Sugar in a small bowl – set aside.
3.) Heat the Oil over high heat in a large wok – add the Beef and stir-fry until done.
4.) Add the Spring Onions, Carrots, Mushrooms, Peas and the Beef Stock mixture to the Beef – stir-fry 5 – 8 minutes until the vegetables are tender and the Carrots and Peas are still crisp.
5.) Stir in the cooked Spaghettini and heat through.
Serve immediately.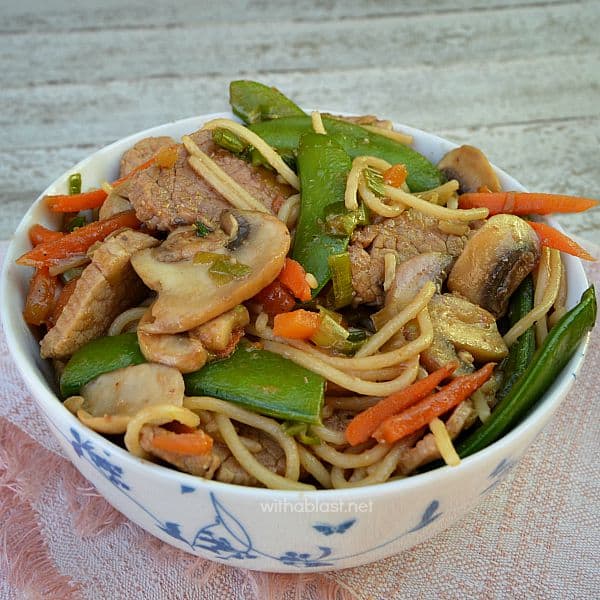 LINDA