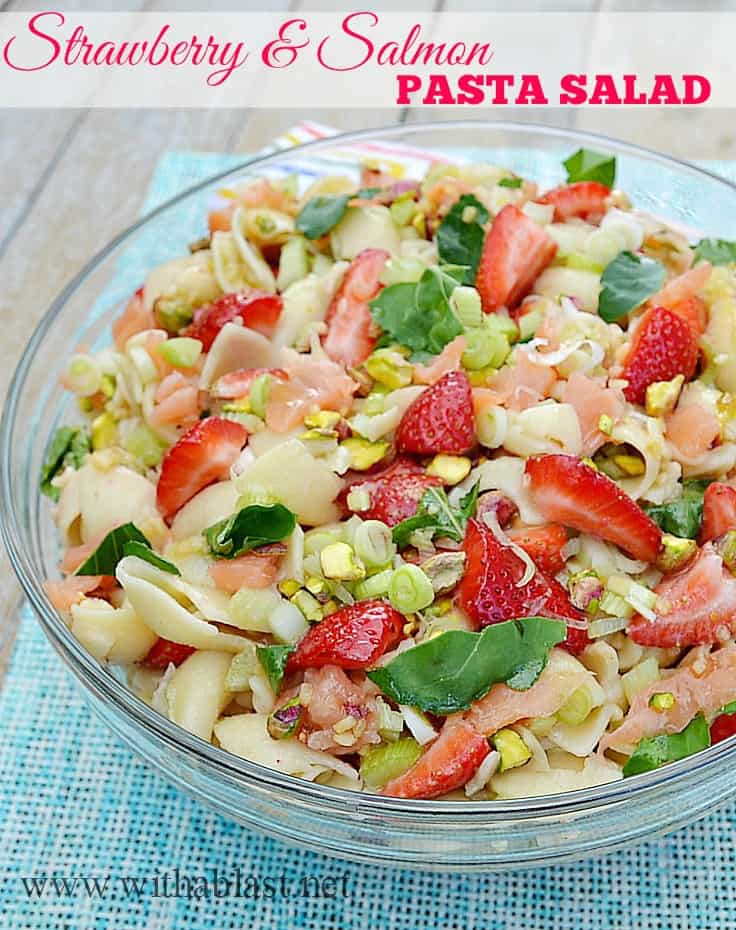 We do not eat Salmon a lot. Roy and I would have Salmon steaks now and then, but the men in my family do not like the thinly sliced Smoked Salmon. Unless, I make this Strawberry and Salmon Pasta Salad , then there would not be any leftovers .. ever!
This past Summer, we have had heat scorching temperatures in South-Africa and we literally lived on cold foods and there is not much that beats a delicious salad and a wholewheat roll on the side.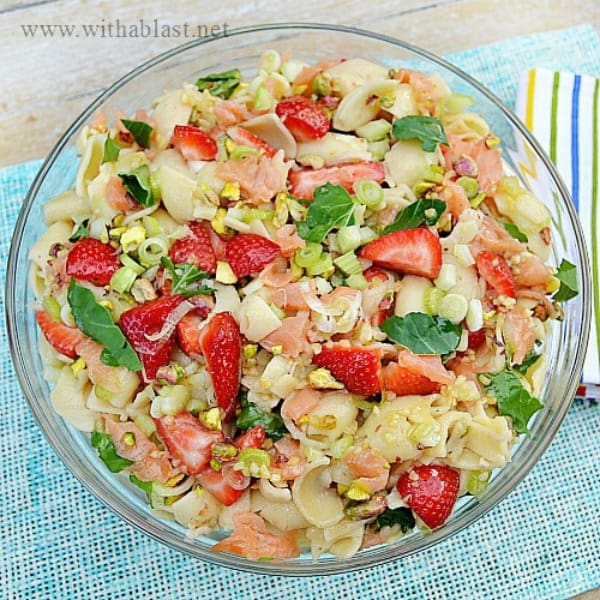 I looked through my drafts the other day and realized I have tons of salad recipes to share with you. And I am not even sharing each and every salad we have here on the blog, so you can imagine exactly what our main meals consisted of these past few months.
Cheri and I used to go to a Cafe in one of our Shopping Malls on the East Rand, where they serve this amazing, Salmon based Salad which we always ordered. After a while I started making my own version, wrote down every ingredient I used and we tested and changed the recipe until we were happy.
Since Cheri only comes home over the weekends, sometimes only a quick overnight, I have not made the salad in ages and now the book is also missing or rather misplaced. But, we have some major changes coming in the house, which I'll tell you about at a later stage, and because of the changes, we will have to go through a lot of junk – some needs to go straight to the garbage and I am hoping to find my handwritten recipe book among the pile which needs to be sorted.
Back to today's recipe, this is one LARGE salad, more than enough for 6 – 8 people as a main meal, and if most of your eaters are kids, you can feed even more.
This Strawberry and Salmon pasta salad is another quick and easy recipe and I love all the ingredients in this one – especially … nope, I do not have a specific ingredient this time ! Love it all !
The only thing which takes a little time, is shelling the Pistachios, man, oh man, does that take time, and somewhere along the line I lost my small Pistachio-shelling-gadget thingy which worked like a dream.
Strawberry and Salmon Pasta Salad
8 Servings
INGREDIENTS:
500g Pasta Shells
4 Celery Ribs, thinly sliced
1 bunch Spring Onions, sliced – only white parts
250g Smoked Salmon slices, torn into pieces
1 cup Pistachio Nuts, shelled and chopped
1 1/2 cups Strawberries, hulled and quartered
Handful Arugula leaves
Dressing:
3 TB Red Wine Vinegar
1/2 cup Olive Oil
1 t Fresh Garlic, crushed
2 t English Mustard Powder
1 TB Honey
DIRECTIONS:
1.) Cook the Pasta as per the instructions on the packet, drain and place in a large mixing bowl.
2.) Dressing : Combine all ingredients until well mixed – pour half of the dressing over the warm Pasta – stir through and let cool completely.
3.) Add the Celery, Onions, Salmon, Nuts, Strawberries and Arugula to the Pasta – stir gently to mix and transfer to a serving bowl.
4.) Drizzle with the remaining Dressing and serve.
Leftovers keep well for 2 days in a sealed container in the refrigerator {the Arugula will wilt a bit, but that's about it}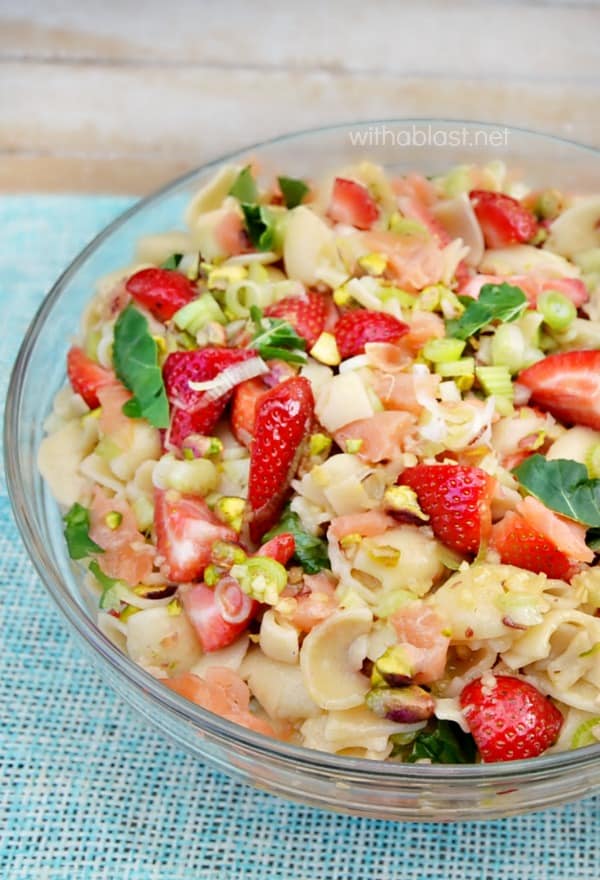 LINDA