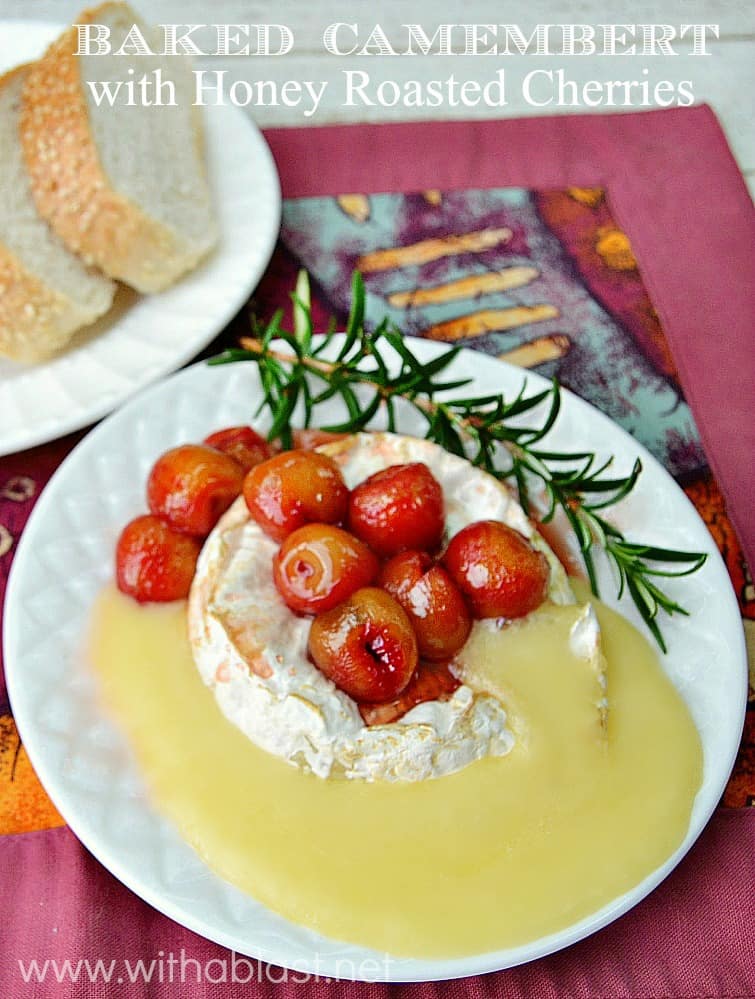 This is such a quick and easy appetizer, and one to which none of my family can ever say no to. A Baked Camembert with Honey Roasted Cherries is a delicious combination, sweet, salty and ever so gooey.

You can spread the awesome warm, melted Camembert on soft French bread, top it with a cherry or two, or use a sturdy savory cracker and get scooping !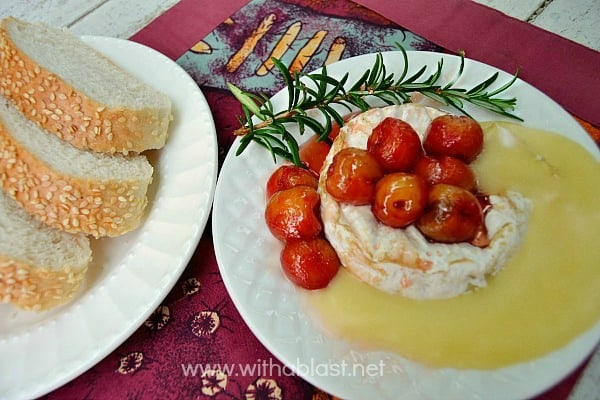 I made a small slit in the Camembert to show you the deliciousness, but it all just poured out, making it look just as scrumptious as it tastes. I only had a minute or two to snap a photo or three, because this baked Camembert with Honey roasted Cherries has to be served immediately after baking and should really only be cut at the dinner table.
But well, if you are a food blogger, you should know what I mean 😉 We just have to get that perfect picture detailing as much as we can of the deliciousness of our treats. My photos are far from perfect, and I do not even think there is such a thing as the perfect photo, close to, but in my opinion only the naked eye sees the perfect picture. I am, however working on it since I got my new camera recently.
That brings me to something else, blogging about food is a huge passion of mine, but being in my situation, I am always looking for something new which interests me. Photography has really grabbed my attention, not only about getting a fairly great photo of a new recipe, but photography in general.
At the moment most of my time spent, is reading/learning about taking photos of all things lovely and what interests me most is to learn how to take photos with the absolute minimum editing using some or other program. Bringing a, longer than was meant to, blah-blah to an end I might not be all that active on posting recipes from 2015.
For now, I hope you enjoy this recipe for a Baked Camembert with Honey Roasted Cherries !
Baked Camembert with Honey Roasted Cherries
Serves : 4
INGREDIENTS:
1 Camembert Cheese Round
2 t Olive Oil
1 can (300g) Red Cherries, drained
1/3 cup Honey
2 Sprigs Fresh Rosemary
Extra Fresh Rosemary, to garnish
DIRECTIONS:
1.) Pre-heat the oven to 180 deg C (350 deg F) – line a baking dish with baking paper – place the Camembert on lined the dish, brush with the Olive Oil – set aside.
2.) Spray a separate baking dish with cooking oil – mix together the Cherries, Honey and Rosemary – transfer to the baking dish and roast 15 minutes until sticky – remove from the oven and cool.
3.) Place the Camembert in the oven – bake 10 minutes or until soft – remove from the oven, carefully lift, using an egg lifter and transfer the Cheese to a serving plate.
4.) Smother with the Roasted Cherries and serve immediately.
I always make a small slit in the cheese right before setting down to serve. Serve with soft French loaf slices.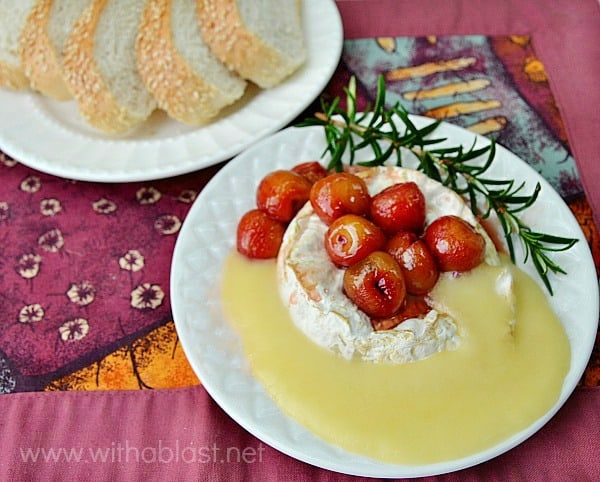 LINDA