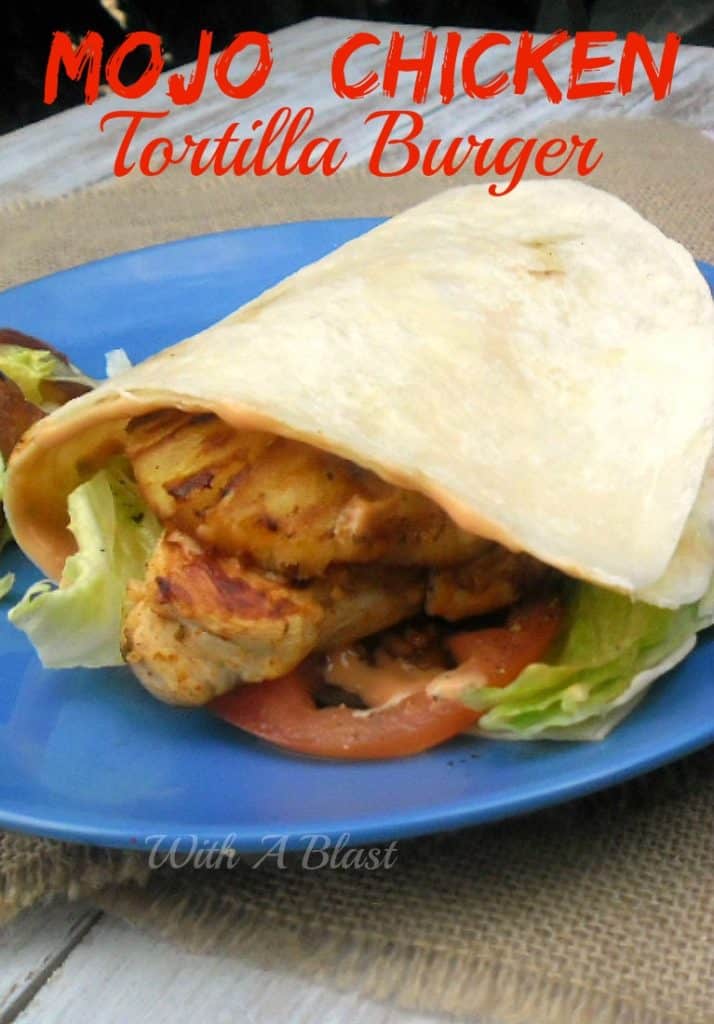 I had an extra bag of Tortillas the other day and I always have Chicken in the freezer. As we did not really need anything from the supermarket that day, I used what I had on hand, and came up with this Mojo Chicken Tortilla Burger.
It was crazy delicious ! The Chicken turned out juicy, tender and with a light hint of citrus. Dinner was on the table in less than 30 minutes which suits me just fine, as I hate spending time in my kitchen during the Winter months.
My kitchen is always cold in Winter and always (extremely!) hot during the Summer months. The only time I actually enjoy being in the kitchen when it is cold, is when my oven is on and at least 2 or 3 plates on the gas stove.
Anyhow, I am going off-topic here… I sliced the Tortillas in half and then placed each half on top of one another, because simply folding the Tortillas over, did not work that well and I also did not want a wrap kind of thing.
Mojo Chicken Tortilla Burger
Serves : 8
INGREDIENTS:
1/2 cup Orange Juice, fresh
1 TB Olive Oil
1 TB Lime Juice, fresh
2 t Garlic, crushed
1 t Paprika
1 t Oregano
1 t Salt
1/2 Dried Chili Flakes (use more if you prefer)
4 Large Chicken Fillets, halved and slightly flattened to an even thickness
8 Large Tortillas, halved (folding over also works, but not as well)
8 TB 1000 Island Salad Dressing
1 Lettuce, torn
3 Tomatoes, 16 Slices
8 Slices Pineapple
1 TB Brown Sugar
DIRECTIONS:
1.) Combine the first 8 ingredients – place the Chicken in a marinade container with a lid – pour the marinade over, cover and marinate for 1 hour, turning the container once.
2.) Remove the Chicken from the marinade container – grill/bake or fry the Chicken, basting regularly with the leftover marinade until fully cooked.
3.) Meanwhile, place the two halves of each Tortilla on top of each other – spread the top half with 1 TB Salad Dressing – add Lettuce, then Tomato to one half of the stacked Tortillas – top with a cooked Chicken Fillet.
4.) Sprinkle the Pineapple with the Brown Sugar – grill or fry the Pineapple until just scorched (about 1 minute over high heat)
5.) Place a Pineapple ring on top of the Chicken – fold over the other half of the double Tortilla and serve.
This Burger is delicious served warm or cold and is therefore great to make in advance or to take on a picnic.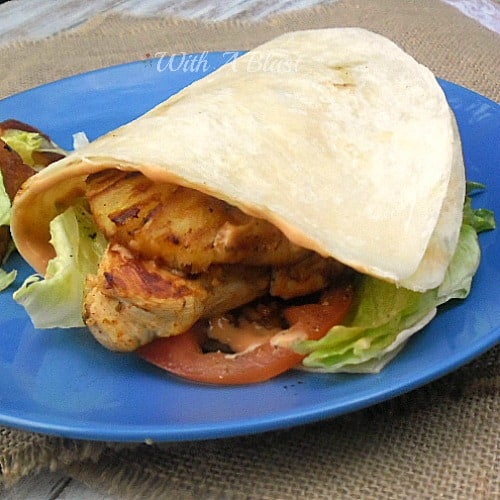 LINDA