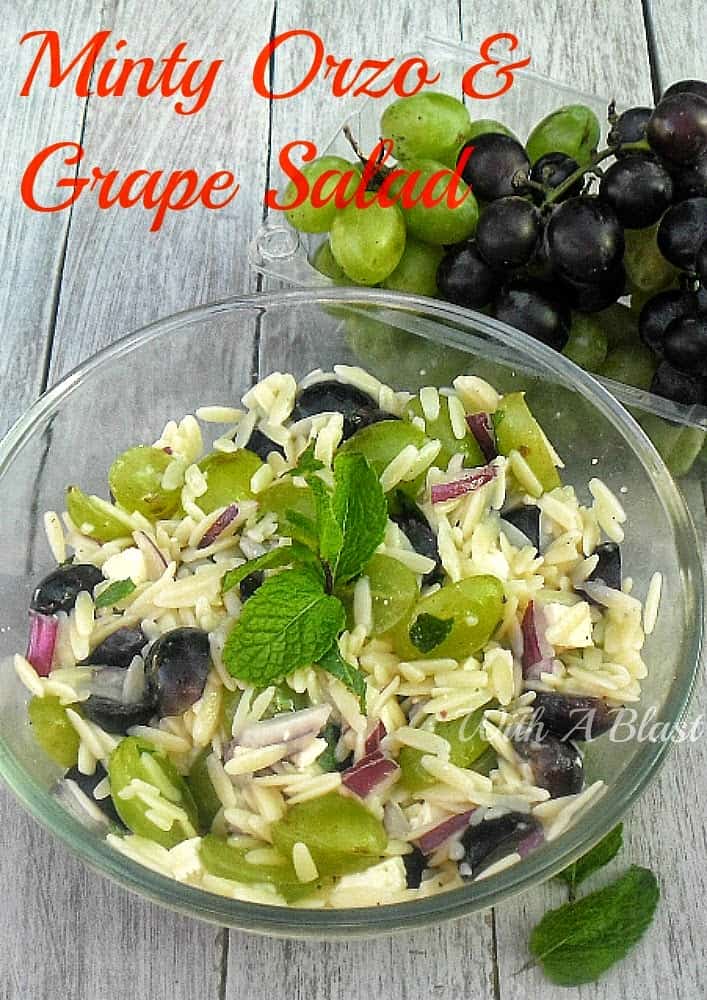 I am not a huge fan of pasta salads and would normally prefer a leafy, fruity kind of salad. Or a grilled vegetable salad is also great.
But this Minty Orzo and Grape Salad is definitely the exception.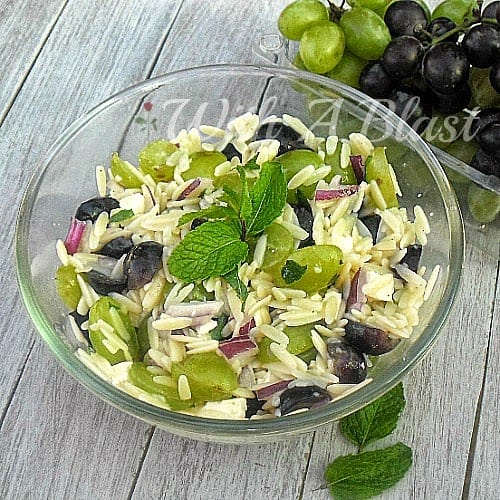 I do not use Orzo much, but I always have some in the pantry for this salad and I use Orzo in a few appetizers as well.
Once the Orzo is cooked, which only takes about 10 minutes anyway, the salad is almost done. Whilst the Orzo cooks, prepare the fruit, cheese and the rest of the ingredients. Toss all together with the cooled Orzo – whip up the light Lemon dressing and drizzle over.
This Minty Orzo and Grape Salad is always ready in under 20 minutes. It is not only quick and easy to make, but everyone loves this salad.
MINTY ORZO AND GRAPE SALAD
Serves : 6
INGREDIENTS:
1 cup Orzo
2 TB Extra-Light Olive Oil
2 TB Lemon Juice
1/4 t Salt
1/4 t Black Pepper
1 cup Black Grapes, halved
1 cup Green Grapes, halved
1 Ring Low-Fat Feta Cheese, crumbled
1/4 cup Fresh Mint, chopped
2 TB Red Onion, finely chopped
DIRECTIONS:
1.) Cook the Orzo as per the instructions on the packet – drain, rinse under cold water and drain again – set aside.
2.) Whisk the Oil. Juice, Salt and Pepper in a small bowl.
3.) Toss together the cooked Orzo, Grapes, Feta, Mint and Red Onion in a mixing bowl – transfer to a serving salad dish.
4.) Drizzle with the Lemon dressing – keep chilled until ready to serve.
This salad keeps well in a sealed container in the refrigerator for up to 3 days.