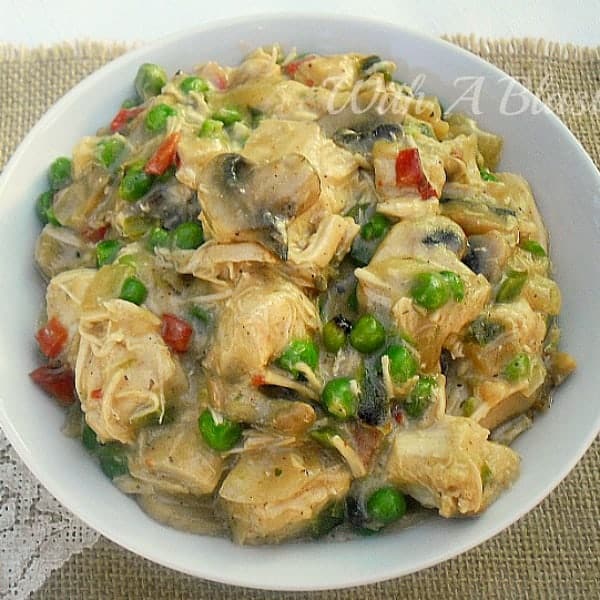 This is my favorite go-to recipe for Chicken A La King which is much lower in fat as most other similar recipes.
Quick to make, and I usually have all the ingredients on hand, therefore when I need something tasty on the table at the last minute, this is perfect.
The diet I am on, is not really a specific diet, I do a lot of research on the internet regarding health foods which I am allowed to eat. Low in fat, and specifically foods which will not cause a sudden attack of Pancreatitis, which I promise you, is very painful.
But, low in fat, does not necessarily mean I can eat it, vegetables like cabbage, too much onion, oranges, corn and white flours are just some of the food which is a no-no. In the same articles, they also mention that it is only a guide and every person has to figure out exactly which foods to avoid and others that might be on the bad list, might actually work for you.
Right, I did not mean to give a lesson here, just trying to explain why a certain recipe might be healthy for me, but it might not work for you.
This was also the very first recipe I tried from the recipe book Gesonde Gesinskos and as I have already mentioned – it is a family favorite by now. I made small adaptions to the original.
Chicken A La King (Low-Fat)
4 Servings
INGREDIENTS:
4 Large Chicken Fillets
2 cups Water
2 Low-Salt Chicken Stock cubes
1 Onion, chopped
1/2 Red Bell Pepper
1/2 Green Bell Pepper
250g Mushrooms, sliced (just over 1/2 pound)
1 cup Frozen Peas
1 packet White Onion Soup Powder
1 cup Fat-Free Milk
1/2 t Paprika
DIRECTIONS:
1.) Cook the Chicken in the Water and Stock cubes until fully cooked – remove the Chicken and cut into bite size pieces – retain 2/3 cup of the Chicken Stock.
2.) Fry the Onion, Peppers and Mushrooms in a non-stick pan until soft – add the Chicken, the retained Stock and the Peas – cover and simmer 5 minutes.
3.) Mix the Soup Powder, Milk and Paprika – add to the Chicken – cover and simmer over low heat for another 10 – 15 minutes.
Serve over Brown Basmati Rice with a Vegetable or Salad on the side.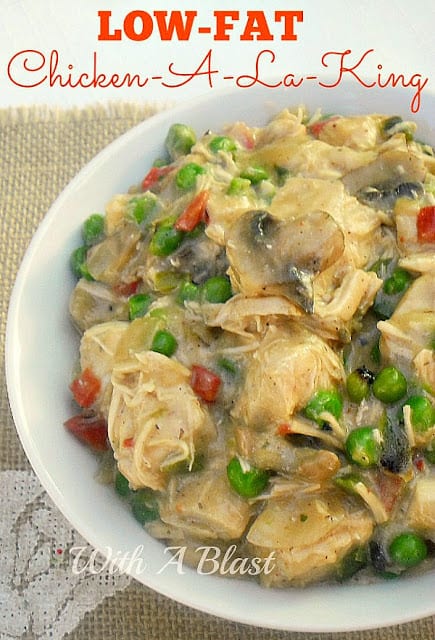 LINDA