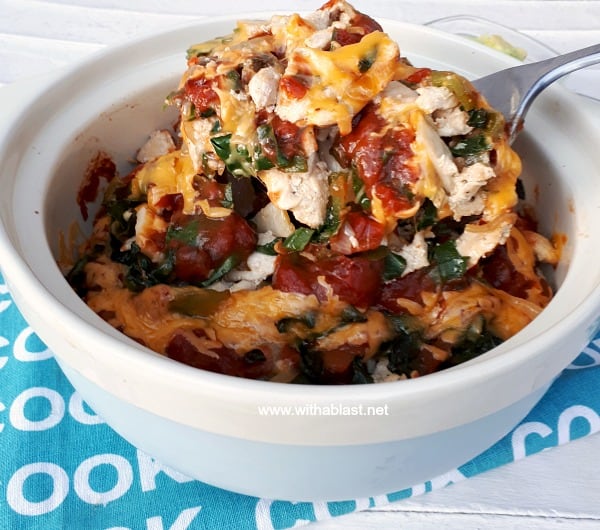 This Chicken Taco Casserole is full of flavor and the Spinach makes a huge difference.

It is not only very colorful, it is delicious as well (Two definites in my book!). Even my picky eater enjoys this casserole and that is quite the accomplishment !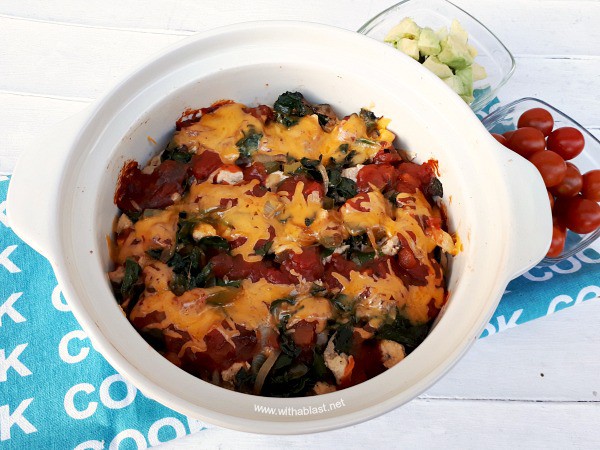 I served the casserole with a side plate full of cubed Avocado and small Cherry Tomatoes, which worked better as everyone could add or leave out what they did not want.
What I like most about this casserole is that it is easy to make with everyday ingredients. The dish is also quick to make and therefore perfect for a busy week night dinner, which is what most families want after a hectic day.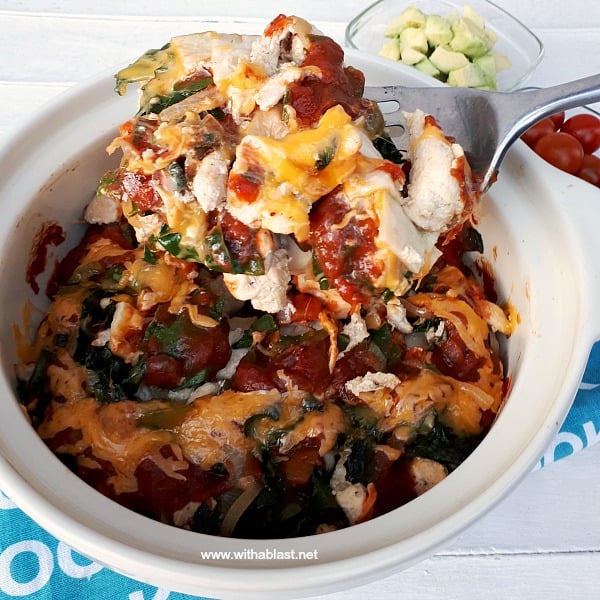 For this specific recipe I prefer to use fresh Spinach, a mild Salsa and a sharp Cheddar cheese, which is just right for our taste preferences.
Chicken Taco Casserole
6 servings
INGREDIENTS:
900 g Chicken Fillets, cut into strips ( 2 pounds )
2 t Fresh Garlic, crushed
1/2 t Dried Chilies, crushed
2 TB Vegetable Oil
1 Onion, sliced thinly
1 Large Green Bell Pepper, chopped
1 Bunch Spinach, chopped
1 1/2 cups Salsa, store-bought or homemade (any one of your favorites)
4 Medium Tortillas, cut or shredded into pieces
1 cup Cheddar Cheese, grated
Avocado, to serve
Cherry Tomatoes, to serve
DIRECTIONS:
1.) Pre-heat oven to 180 deg C (350 deg F) – spray a large oven dish, with a lid, with cooking oil.
2.) In a medium bowl – combine the Chicken strips, Garlic and Chilies – leave to stand about 15 minutes.
3.) Heat the Oil in a large skillet – add the Chicken and cook until done (about 5 minutes) – remove from the skillet and keep aside.
4.) Using the same skillet, saute the Onion and Green Bell Pepper until soft – stir in the Spinach, cook another minute or two – remove from heat.
5.) Pour 1/2 cup Salsa into the bottom of the oven dish – Top with half of the Tortilla pieces, followed by half of the Chicken mixture, next add half of the Vegetable mixture, followed by another 1/2 cup Salsa, add half of the Cheddar Cheese – repeat the layers but do not top with the remaining Cheddar Cheese now.
6.) Bake, covered for 30 minutes – remove from the oven and top with the remaining Cheddar Cheese.
Let stand for 5 minutes and serve with Corn Chips, Avocado and Cherry Tomatoes if you wish.