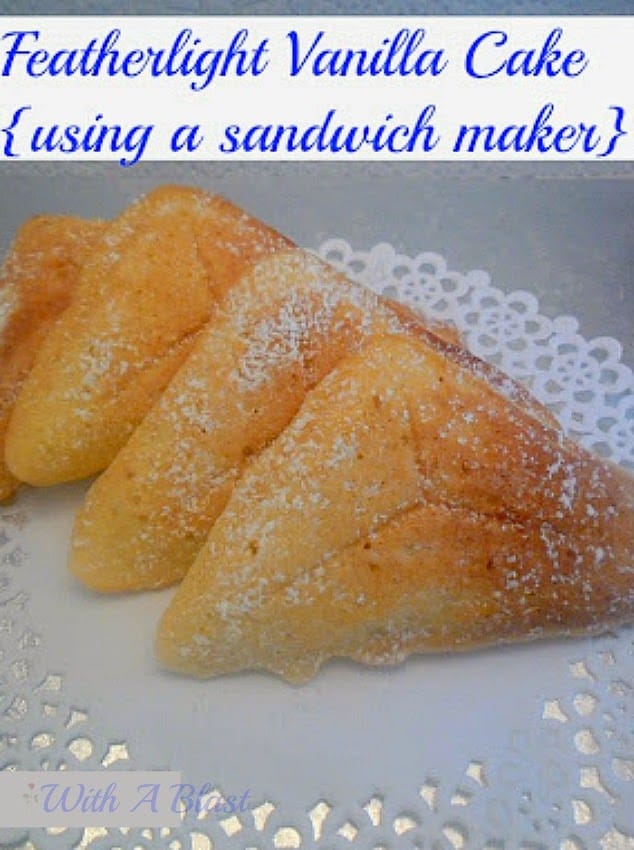 Featherlight Vanilla Cake made in the sandwich maker in less than 15 minutes ! That is genius, don't you think?
At first I thought, no ways, the batter will be all over the place, but it was not and all 12 pieces came out extremely light and totally delicious.
The prepping takes about 5 minutes, with ingredients you should have in your pantry. Each batch took 3 – 4 minutes, therefore only minutes later we had a delightful snack.
I found this recipe shared on Facebook and immediately clicked over to the original site, which you can find HERE .
Featherlight Vanilla Cake (using a sandwich maker)
12 Servings
INGREDIENTS:
1 Cup Flour
1 t Baking Powder
1/2 cup Oil
1/2 cup Caster Sugar
2 Extra-Large Eggs
1 t Vanilla Essence
Icing Sugar, to dust (optional)
DIRECTIONS:
1.) Spray the sandwich maker top and bottom with cooking oil – Depending on how long your sandwich maker takes to heat up – you can switch it on now.
2.) Sift together the Flour and Baking Powder – set aside.
3.) Beat the Oil and Caster Sugar together until creamy – add the Eggs and Vanilla – beat another minute or two until well combined.
4.) Fold in the Flour to the Oil mixture.
5.) Fill each triangle of your sandwich maker, but do not let it overflow – close and check after 3 minutes, if a toothpick comes out clean, it is ready – remove and let cool slightly on a cooling rack – dust with Icing Sugar if you wish to.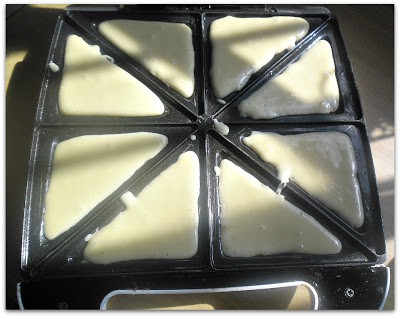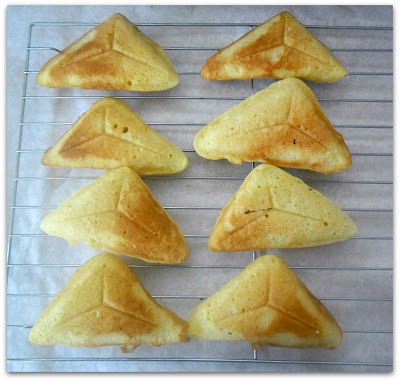 Cool a little, dust with Icing Sugar as soon as possible
Best served warm – you can make it ahead of time and re-heat in the microwave for a few seconds.
I am most definitely going to experiment with flavors and above all with chocolate chips …mm, and maybe drizzled Icing or Chocolate over ?? …
ANOTHER SANDWICH MAKER CAKE RECIPE YOU MIGHT LIKE :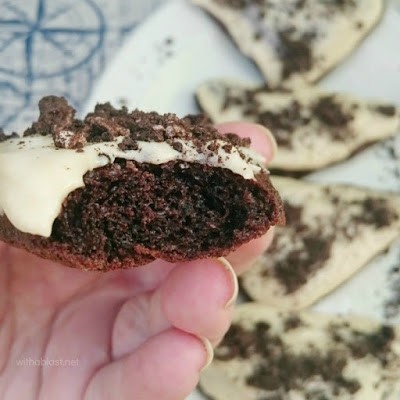 LINDA