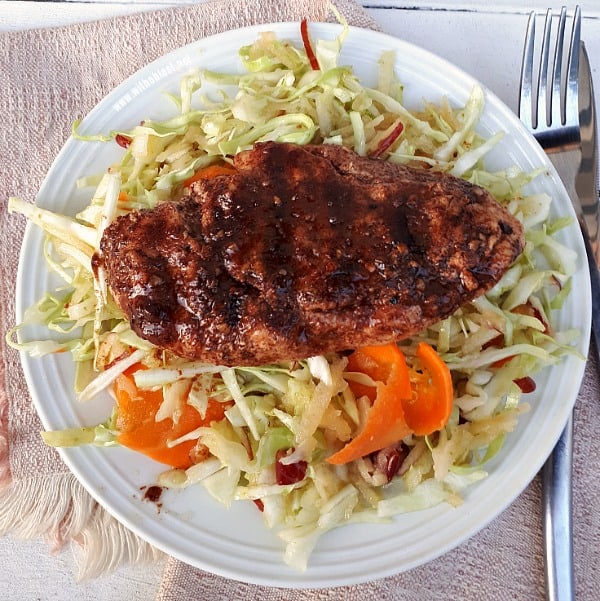 Cinnamon and Chicken..?? Of course ! Spicy Chicken with Coleslaw is a delicious, light dinner which is perfect for warmer weather. The Chicken is also not hot spicy, but if you have kids who absolutely do not like anything Chili, feel free to omit the Chili flakes in the recipe.

I have made this recipe (found in one of my oldest scrap books and adapted by me) with the Coleslaw and once, only once, served the chicken without. The Chicken and the Coleslaw just seem to work better together than each on it's own.
The presentation is also striking when the Chicken is served ON TOP of the Coleslaw. I served this dish together with my Morrocan Butternut and a slice or two of French Bread.
I used my George Foreman grill to cook the Chicken, but you can use a griddle pan, health grill or whatever you prefer to use to barbecue / grill meat.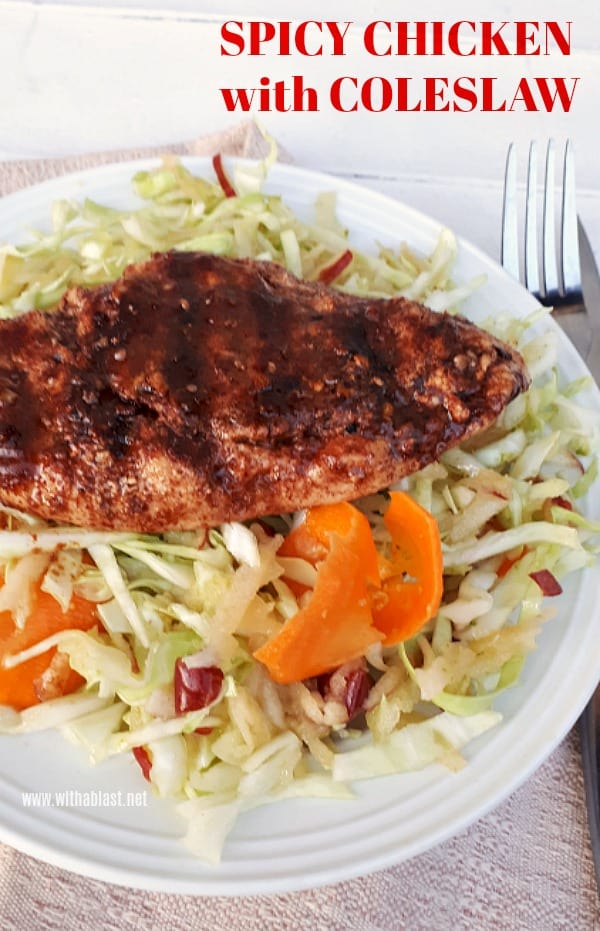 The spicy Chicken with Coleslaw is an absolutely winner when you need a quick and easy dinner, especially during busy week days and it is healthy too.
[Low-Carb, Low-Fat recipe]
Spicy Chicken with Coleslaw
6 Servings
INGREDIENTS:
Coleslaw:
1 Red Apple, cored and grated
3 cups Cabbage, shredded
2 Carrots, shaved into ribbons
1 Onion, finely sliced
1 Lime, Juice and Zest
1 t Sugar
2 TB Olive Oil
Spicy Chicken:
6 large Chicken Fillets, butterflied
4 TB Olive Oil
2 t Fresh Garlic, crushed
1/2 t Chili Flakes (optional)
2 t Cumin
2 t Ground Cinnamon
Salt and Black Pepper, to taste
DIRECTIONS:
1.) Coleslaw: Mix together the Apple, Cabbage, Carrots and Onion in a large bowl.
2.) Combine the Juice and Zest of the Lime, Sugar and Olive Oil – mix in with the Cabbage mixture.
3.) Chicken: Combine the Olive Oil, Garlic, Chili Flakes(if using), Cumin and Cinnamon to form a paste.
4.) Rub the Chicken Fillets with the mixture and season to taste with Salt and Black Pepper.
5.) Use a griddle pan / health grill / barbecue and cook each side of the chicken until done – approximately 5 minutes per side.
Serve the Chicken on top of the Coleslaw with one or two sides – vegetables or salads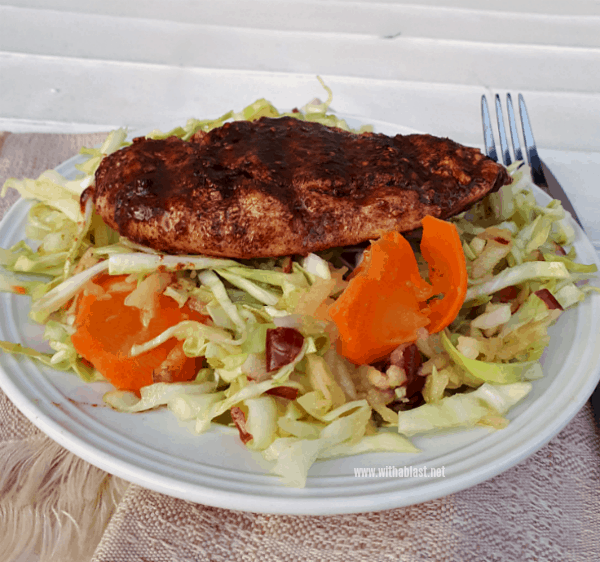 LINDA