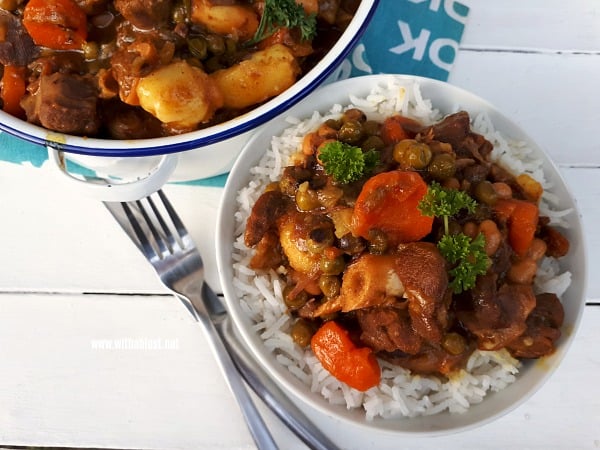 Lamb Curry is one of our favorite dishes, made quickly in the pressure cooker. You can always convert the recipe to stove top or slow-cooker if you are not into pressure cooking.
The meat turns out super tender, really fall-off-the-bone tender ! And it is packed with vegetables as well.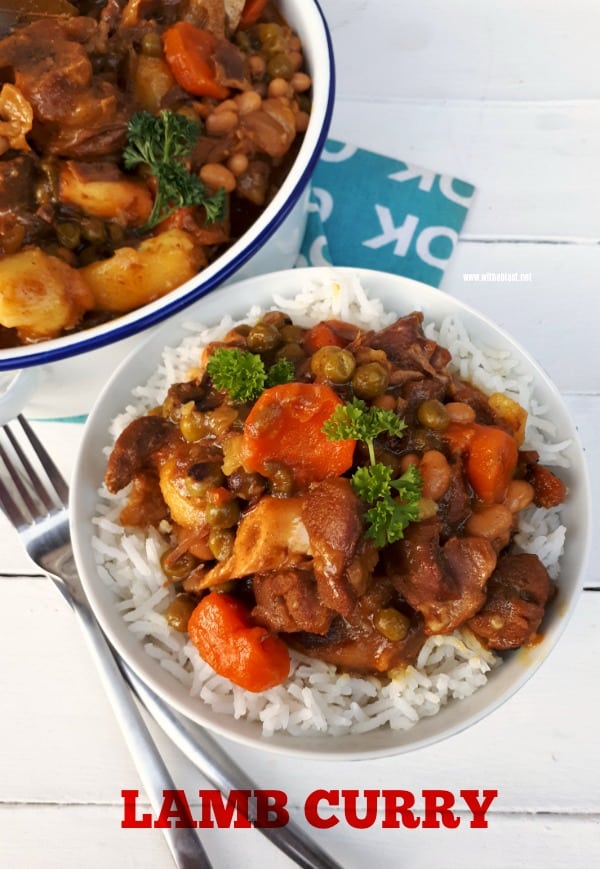 We are freezing ! Every bone in my body feels frozen…at least it's our last month of Winter, but I have a feeling this is going to be one heck of a long month.
The past week the temperatures were up a bit, but all of a sudden it's taken a dive again. All I want to do, is crawl into bed with my electric blanket and read or sleep.
It's too cold to THINK what to make for dinner, never mind actually go to the kitchen and cook!
I think Spring is my favorite season .. how about you? Summer – too hot/ Winter – too cold/ Autumn – everything goes brown and dead … no, Spring it is.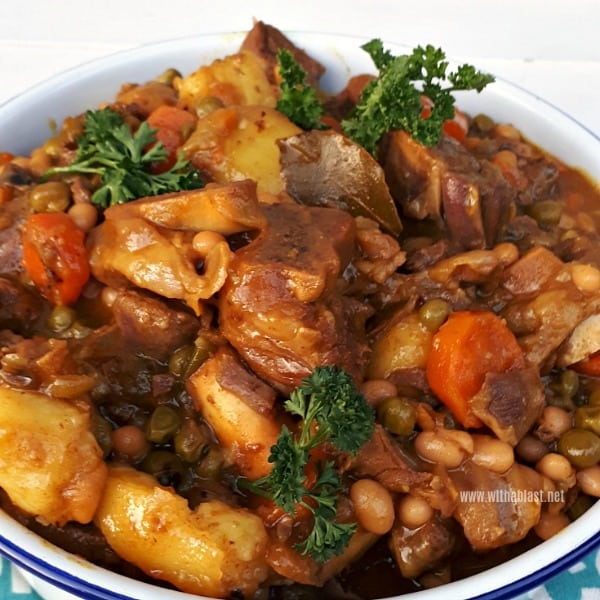 Which brings me to my recipe today – Comfort Food !! I think we had this dish at least once a week during this Winter. I make this in my pressure cooker but it can easily be done in an ordinary pot, it'll just take a bit longer.
Lamb Curry
slightly adapted by me from Gesinskos
6 Servings
INGREDIENTS:
2 t Curry Powder
1/2 t Ground Ginger
1 TB Turmeric
2 TB Margarine
3 Large Onions, chopped
1 Green Bell Pepper, chopped
1.2 kg Lamb Knuckles or Neck
1/4 cup Chutney
2 TB Apricot Jam
1 TB Vinegar
1 t Sugar
2 t Salt
1 cup Water
4 Bay Leaves
4 Carrots, diced or sliced into rings
1 cup Frozen Peas
1 kg Baby Potatoes, peeled ( 2 1/2 pounds )
1 can (410g) Beans in tomato sauce
DIRECTIONS:
1.) Place the Curry Powder, Ginger and Turmeric in a pressure cooker – heat on low until the spices are just warm, careful not to burn. Add the Margarine, Onion and Green Bell Pepper – Cook for 3-4 minutes and add the Lamb.
2.) Combine the Chutney, Apricot Jam, Vinegar, Sugar, Salt and Bay leaves with the Water – Add to the pressure cooker. Pressure cook 30 minutes.
3.) Remove the pot from the stove, release pressure and add the Carrots, Potatoes and Peas – mix gently and return to pressure cook another 20 minutes.
4.) Remove from heat, release pressure and stir in the can of Beans.
Serve with lots of rice.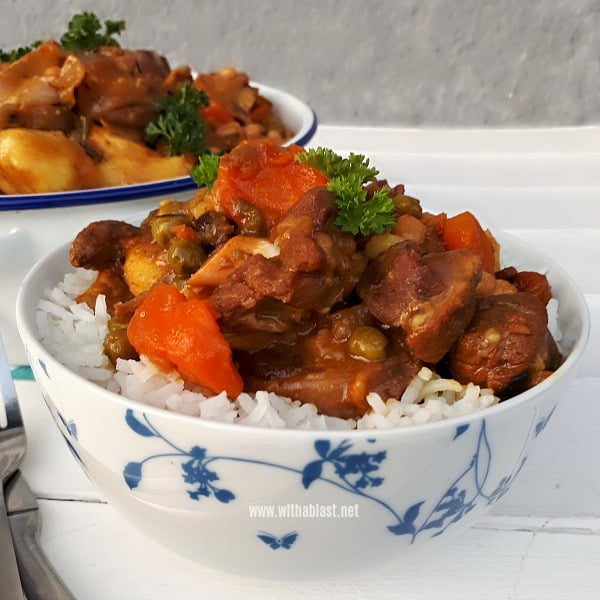 LINDA