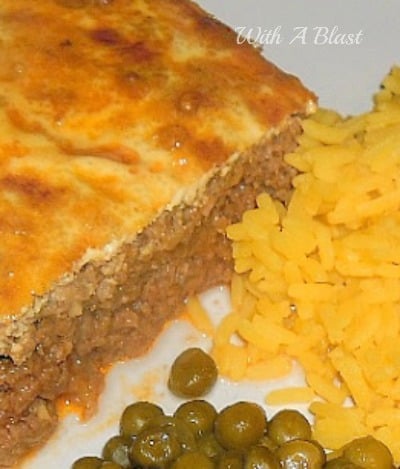 I do not think there is a more traditional South-African classic dish than Bobotie. It is usually served with yellow rice (spicy or not, with raisins or without). I choose to serve this dish with simple yellow rice, using Turmeric to color.. it does not affect the taste too much and it goes well with the not overbearing spicy-ness of the Bobotie.
We were taught since high school (cooking class) to use the group method when making Bobotie…I have no idea why but 99% of the different recipes for Bobotie uses Groups A, B and C. It is also the only recipe I've ever seen with this, instead of just a jump between the "groups" or 1, 2 and 3, or filling, topping, crust etc.
Although, I have tried many Bobotie recipes, this one from the cookbook Gesinskos by Christelle Erasmus, is my favorite.
Bobotie
INGREDIENTS:
GROUP A:
4 t Ground Ginger
2 TB Soft Brown Sugar
2 t Curry Powder
1 TB Turmeric
2 t Salt
1/4 t Pepper
1/4 cup Butter
5 Medium Onions, chopped
GROUP B:
2 Slices White bread, crustless, dipped in water and then press out the water
1 kg Lean Ground Beef
2/3 cup Seedless Raisins
1/4 cup Chutney
2 TB Fine Apricot Jam
2 TB Vinegar
2 TB Worcestershire Sauce
2 TB Tomato Paste
GROUP C:
1 1/2 cup Milk
2 Extra-Large Eggs
DIRECTIONS:
1.) Heat all the dry ingredients of Group A in a pot over medium heat – careful not to burn, you must just be able to smell it (1 – 2 minutes) – Add the Margarine and Onions to the pot and saute until the Onions are soft.
2.) Pre-heat oven to 180 deg C (350 deg F) – Spray a large oven dish with Spray 'N Cook
3.) Add all the ingredients of Group B to the Onion mixture (stir well to combine all) – Simmer over low heat for 20 minutes,stirring regularly. Transfer to the prepared oven dish.
4.) Beat the Milk and Eggs (Group C) together and pour evenly over the meat mixture – Bake 45 minutes.
Remove from oven and let "rest" for 5 minutes, before serving.