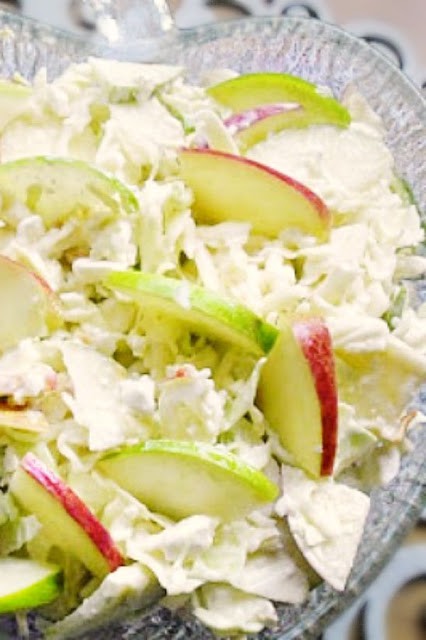 Delicious ! This Apple Cabbage and Cottage Cheese Salad is great for dieters or if you want a super healthy salad.

I think this is one of the first salads I made when we just got married and that is almost 24 years ago, and it is still a family favorite. We had this tonight.. only a few hours ago .. and I'm craving for it AGAIN. But, not a good idea to have cabbage at 10pm – not for me anyway.
Best of all – Kids go crazy for this! Must be all the Apple ..
Try not to leave out the Dried Onion Flakes – it makes a huge difference in the taste.
If on a diet – use the tip in brackets next to the ingredient.
Apple, Cabbage and Cottage Cheese Salad
INGREDIENTS:
1 Red Apple, cored and sliced
1 Green Apple, cored and sliced
Lemon juice
2 cups Cabbage, grated or thinly sliced
250g Cottage Cheese Chunky, Plain (Fat-free)
1/2 cup Mayonnaise (Light)
2 t Dried Onion Flakes
DIRECTIONS:
1.) Sprinkle the Apple slices with a little Lemon juice to prevent discoloration.
2.) Add the Apples, Cabbage, Cottage cheese, Mayonnaise and Onion Flakes to a large mixing bowl – Mix well.
Transfer to a serving bowl, chill or serve immediately.Leftovers can be stored in an airtight container in the refrigerator for up to 2 days.