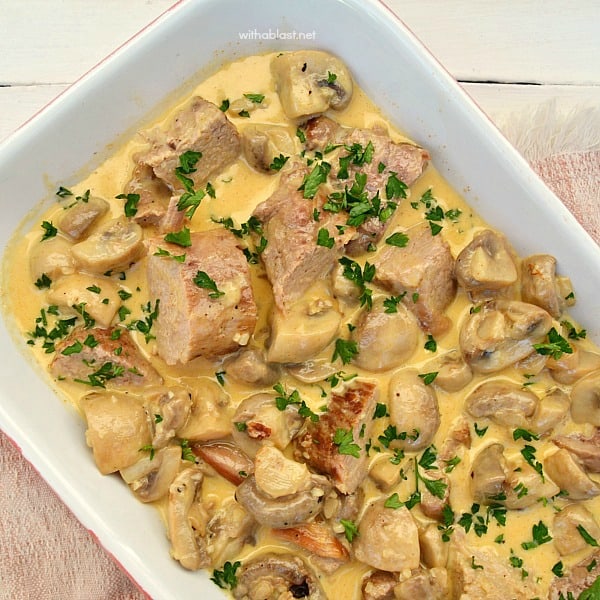 What a crazy week this has been ! This is when I truly appreciate quick, delicious and easy recipes and this Pork Tenderloin in creamy Mushroom Sauce never lets me down. Not time-wise or in taste
To most people, my crazy week, will sound normal .. but to me it was a very busy week.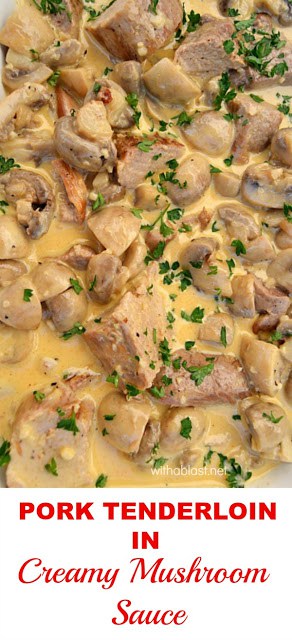 I went out to get my hubby's Father's Day gift, bought all the ingredients needed for Sunday's special Daddy's day (I will be making an appetizer, main meal, with all the sides, and a variety of desserts), finally gotten to the hairdresser (haven't been for months!), took a stroll through our local baking supplies store and saw a lot of goodies I need want.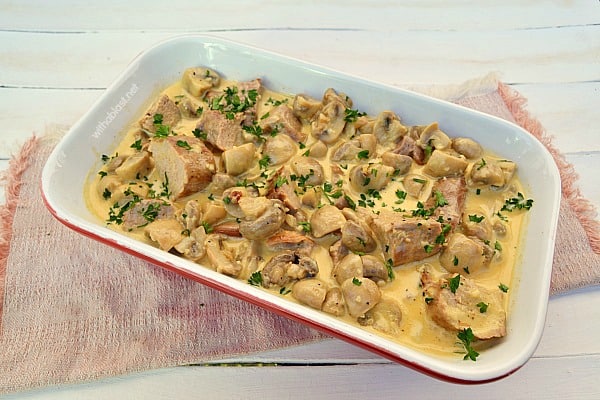 This is why I love this recipe – quick, easy and delicious. My kind of food. Make the Mushroom Sauce on its own and serve with whatever you normally make. It's great over any kind of meat or vegetables.
I even made it with oven baked fries one day for lunch (Fries and a creamy sauce, yeah, I know, not all that healthy – but sometimes one must give in to a craving or keep suffering)
I did not serve the sauce separately over the Pork, but instead mixed it all up and scooped it over creamy mashed potatoes with veggies on the side. This dish is one of the ultimate comfort foods by far.
#recipe-schema { border: 1px dashed #89D2BD; padding: 25px; background: #F1FEF9; font-size: 15px; margin-bottom: 10px; }
.recipe-schema-image { float: right; clear: right; margin-left: 10px; padding: 5px; background: #eee; border: 1px solid #ddd; }
.recipe-schema-name { font-size: 18px; }
.schema-primary-meta-data { margin-top: -25px; border-bottom: 1px solid #D0E3DF; padding-bottom: 20px; }
.recipe-schema-ingredients, .recipe-schema-instructions { font-weight: bold; }
.recipe-schema-description { font-style: italic; }
@media screen and (max-width: 550px){
.recipe-schema-image { float: none; clear: both; margin-bottom: 30px; margin-left: 0; }
}
Sprinkle the Parsley over and serve the Pork over rice, pasta or mashed potatoes with a side vegetable or salad
LINDA