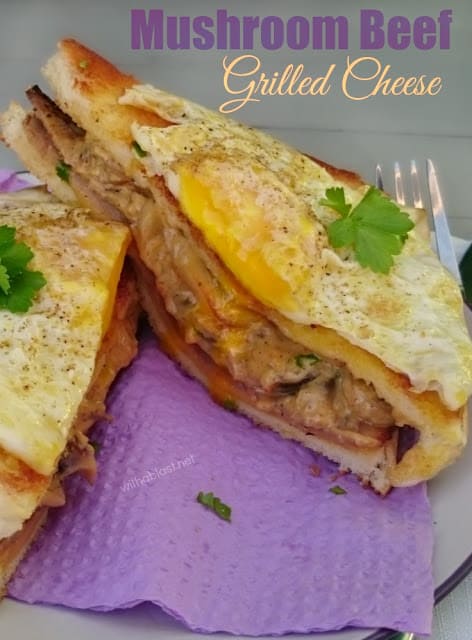 I was busy tapping away on my laptop this afternoon when my hubby asked what's for dinner tonight ? Dinner..?? Wow, where did the time go? Anyhow, this is how the Mushroom Beef Grilled Cheese started taking shape in my mind.

Me: I don't know – it's still early.
Him: Any ideas?
Me: No, Roy .. I. am. busy. now.
Him: Maybe we must …
Me: Yes, I'm thinking – I might have an idea.
Him: Like what?
Now, I am really getting riled up..
Me: I don't know – I'm making something up in my mind and if you keep pestering me, I can not think ! (remember, all the while my attention is on the laptop and by now I'm even tapping away faster..)
Roy: Okay, I hope it'll be …………………… and I tuned him out.
No, I am not usually like that, but sometimes my family will ask me at 9 am what's for dinner. I mean, really?? And I totally dislike it when they know I'm busy and they keep hammering on about whatever. There's a time and place for it all (and believe me – if it's something urgent – I MAKE TIME for them)
We normally like double cheese, but the Mushroom sauce is quite rich, therefore we settled for single sliced cheese per sandwich.
Mushroom Beef Grilled Cheese
10 Servings
INGREDIENTS:
20 Slices of Bread (your choice)
10 Large slices Roast Beef
10 Gouda Cheese slices
1 TB Avocado Oil
500g Mushrooms, sliced
1 t Garlic, minced
1 cup Fresh Cream
1/2 TB Paprika
1 TB Fresh Basil, chopped
2 TB Fresh Parsley, chopped
Salt and Black Pepper, to taste
1 t Flour
10 Eggs
DIRECTIONS:
1.) Toast 10 slices of bread on one side only (I toast mine in the oven under the grill)
2.) Top each toasted slice of bread (toasted side on the bottom) with a slice of Cheese and fold the Roast Beef double and place on top of the cheese.
3.) Saute the Mushrooms and Garlic in the Avocado oil until soft and brown. Add the Fresh cream and simmer until sauce has reduced by half. Add the Paprika, Basil, Parsley, Salt and Pepper. Mix well to combine. Stir in the Flour and let simmer until sauce has thickened (about 1 – 2 minutes)
4.) Scoop the Mushroom sauce over the Roast beef.
5.) Top with a buttered slice of bread (buttered side up)
6.) Place in the oven under the grill and toast until golden.
7.) Meanwhile, fry (or poach) the Eggs, and as the sandwiches come out of the oven (I had to do two batches), top each with an Egg.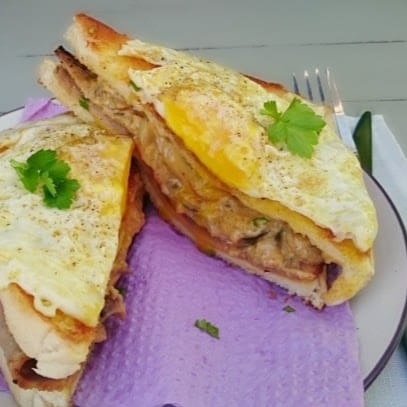 LINDA