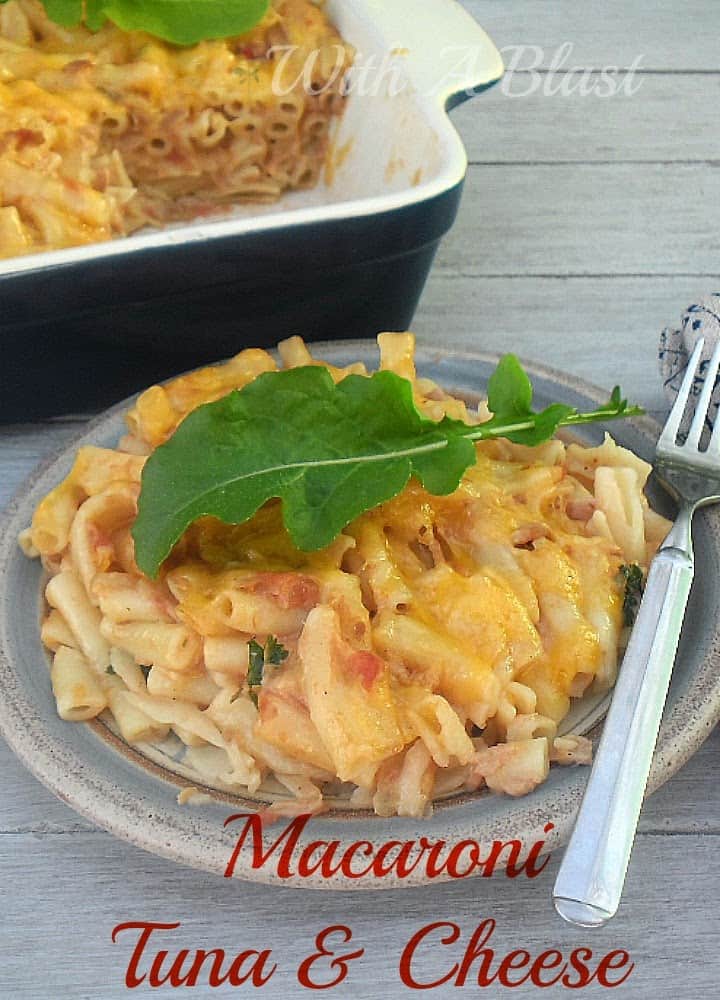 Macaroni Cheese and Tuna is one of our regular dinners on our monthly menu. This recipe is simple, quick and very economical.
Macaroni is a staple in many a household – some years before my Mom passed away, we were going through her grocery cupboard and found (can't remember the exact amount !) around 15 boxes (500g) spaghetti and about twice that much macaroni ! Okay, there's not a point to this little tidbit, but when I think about macaroni – the image of all those boxes of pasta come back to me.
As much as I loved her, and always will, Mom wasn't a cook, baker or anything like that. What she really did well, was to make snacks out of virtually nothing – she would go to the shops and buy a couple of goodies, put them together, and Voila ! we had a snack tray. One other thing I remember was her savory (quiche like) tart which we enjoyed tremendously.
Back to Macaroni – I did an earlier post on Mac and Bacon (recipe HERE) .. which truly is our favorite, but this one with the Tuna is a nice and quick alternative
Macaroni Cheese And Tuna
6 Servings
INGREDIENTS:
500g Macaroni ( 1 pound is fine )
2 cans (170g each) Solid Tuna in Oil – I use either in vegetable oil or in olive oil
1 can (410g) Tomato and Onion Mix
2 1/2 cups Cheddar, grated, (divided)
1 t Salt
2 TB Fresh Parsley, chopped
1/4 cup Milk
Arugula, to serve (optional)
DIRECTIONS:
1.) Pre-heat oven to 180 deg C (350 deg F).
2.) Boil the Macaroni in salted water until ready, drain and transfer to a large mixing bowl.
3.) Loosen the Tuna (with the Oil) and add to the Macaroni, together with the can of Tomato and Onion.
4.) Mix gently and add 2 cups of Cheddar, the Salt, Parsley and Milk – mix until combined.
5.) Pour mixture into a lightly sprayed rectangular 20 x 30cm oven dish (8 x 12 inch).
6.) Sprinkle the remaining 1/2 cup Cheddar over the mixture, evenly.
7.) Bake 30 – 35 minutes, remove from oven, let rest for 5 minutes and serve.
LINDA