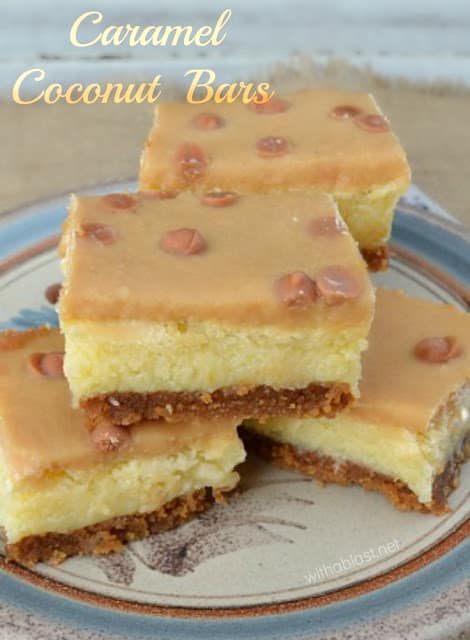 (Updated photo/post 05/18/2015)
I did not plan on making these Caramel Coconut Bars a couple of days ago, but at the very last minute I decided to update some of my old posts with new photos.
Most of my 2012/2013 photos need updating, and I also like to check on the recipes, whether I have changed something since the first post or if I am still making the dishes/treats the same.
I make these Coconut Bars fairly often and knew I have not changed anything, except the Chocolate topping. Previously I have used Strawberry, Dark or Plain Chocolate, but have found that the Caramel is a huge favorite with my family.
The filling tastes like a NIKI bar, very coconutty and so chewy ! Combine the filling with the delicious, lightly baked crust and you have a winner for dessert or to serve at tea time. And I absolutely love how quick these are to make – only the cooling takes a bit of time.
This recipe has never failed and I find I need to hand out the recipe each time someone new tastes them.
Caramel Coconut Bars
16 Servings
INGREDIENTS:
1 cup Tennis Biscuit Crumbs (or use your favorite)
2 TB Icing Sugar
1/4 cup Butter, melted
1 Can (397g) Sweetened Condensed Milk
1 1/2 cups Coconut, shredded or fine
1 Large Egg
200g Chocolate Easy-Melt Caramel Flavor ( 6oz broken into cubes)
1 TB Butter
DIRECTIONS:
1.) Pre-heat your oven to 180 deg C (350 deg F) – Line a 20 x 20cm baking pan or glass oven dish with baking paper or spray with cooking oil.
2.) Mix the biscuit crumbs with the icing sugar – add the melted butter. Stir until well mixed. Press the crust mixture firmly onto the bottom of the prepared pan. Bake 10 minutes.
3.) Meanwhile, pour the condensed milk into a microwave bowl – heat until quite warm to the touch.
4.) Stir the Coconut and the Egg into the Condensed Milk, make sure everything is well mixed.
5.) Spread the Coconut mixture over the baked crust – Bake 15 – 20 minutes and let cool.
6.) Melt the Chocolate and Butter in a bowl in the microwave. Stir every 30 seconds, until fully melted.
7.) Pour the melted chocolate over the coconut layer and spread to cover equally.
8.) Chill in the refrigerator until cold and set before cutting into bars.
These bars do not last long, however, it is a very sweet treat, therefore I'll suggest not cutting them into too big squares/rectangles.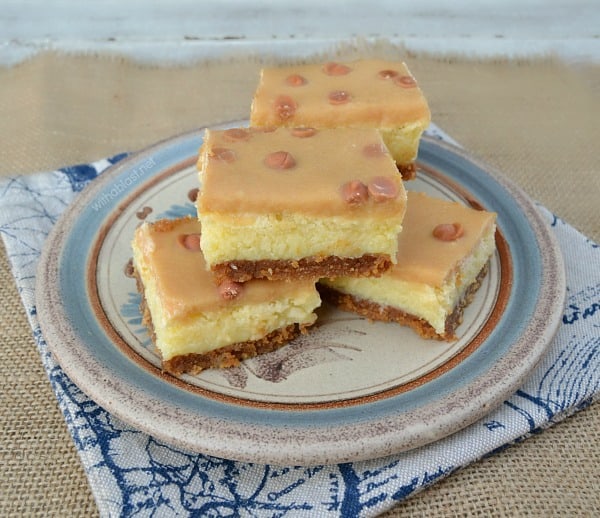 LINDA